6 Best Inline Water Filter For Ice Maker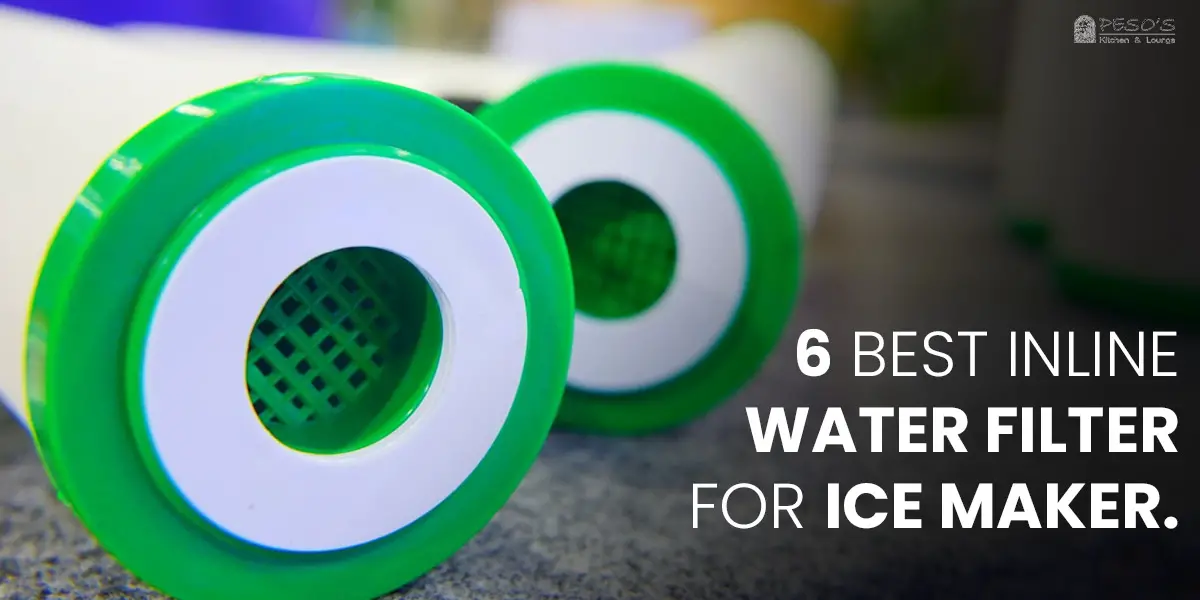 Who doesn't like crystal-clear ice cubes in their drinks? Be it for household use or a party, ice cubes are no more a luxury, they are a necessity to chill up a mood. Ice makers produce tonnes of fresh ice each day by sourcing water from a connected water inlet pipe.
It is not always ensure that the water going into the icemaker is 100 percent pure and clean. Especially, If you rely on municipal water pipe systems then your ice may be defiled with toxic sediments. These adulterated ice cubes neither taste as ideal as expected nor it is suitable for health in the long term.
This is why you need to install the best inline water filter for the ice machine. These purifying machines are mounted on the main water inlet pipe and filter out most heavy metals, chlorine, toxins, and any other unhealthy substances from water. This ensures your icemaker receives clear water for making perfectly crunchy ice cubes.
This article is a comprehensive buying guide for the best inlet water filters. Keep reading to discover some high-performing ice maker filters under budget.
Need for Best Inline Water Filter for Ice Maker
There are numerous reasons why you need the best inline water filter for the ice machine. The common concern is hygiene and edibility. Enumerated below are important uses of inline water filters:
Local or municipal water supply passes through broken and unclean pipes which can make water mineral contaminated.
Mineral build-up and excess chlorine can dilute the quality of ice cubes and result in an unpleasant taste and odour.
Inline water system filters out most pollutants from the source water, so you get tasteless and odorless ice cubes every time.
Comparison Of Our Top Picks
Product Title
Product Title
1. Camco Taste PURE RV/Marine Water Filter
2. Culligan RC 4 EZ-Change Water Filtration for Ice Maker
3. Waterdrop In-line Water filter for Ice Maker and Drinking Water
Material
Material
ABS Plastic
ABS Plastic
ABS Plastic
Filter Type
Filter Type
Granular Activated Carbon (GAC)
Reverse Osmosis (RO)
Reverse Osmosis (RO)
Flow Rate
Flow Rate
5 gallons per minute
100 gallons per day
70 gallons per day
Filter Life
Filter Life
6 Months
6 months
6 months
Applications
Applications
RVs, ice makers, boats, and other recreational vehicles
Ice makers, Refrigerators
Refrigerators, Ice makers, RVs
Feature
Feature
Reduces chlorine, taste, odor, and other contaminants from water
Removes 99.9% of contaminants, including lead, bacteria, viruses, and cysts
Removes 99.9% of contaminants, including lead, bacteria, viruses, and cysts
Best Inline Water Filters For Ice Makers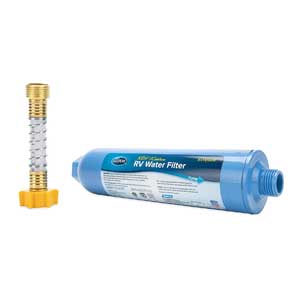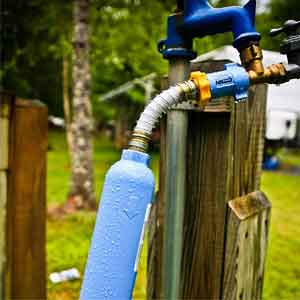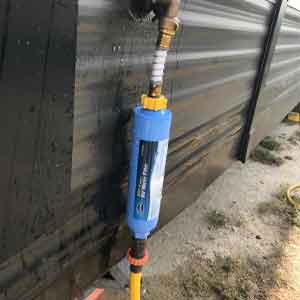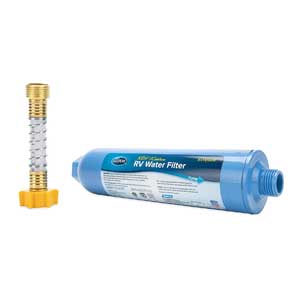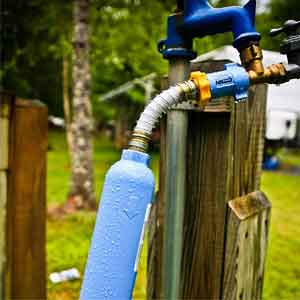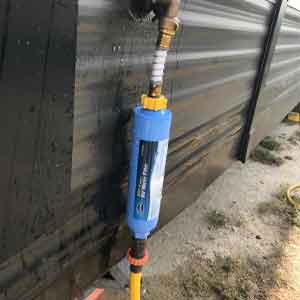 Drawing from my personal experience, I can confidently say that this product is the best inline water filter for Ice maker, RV and camping. Its lightweight and sleek design makes it incredibly convenient to carry around.
When I'm on a vacation or camping trip, having access to fresh and clean drinking water and clean ice isn't always guaranteed. That's why this filter has become an essential companion for me.
I can take it with me wherever I go without any burden. Not only does it save me a significant amount of money on purchasing packaged Ice and drinking water, but it also ensures that I always have access to clean water on the go.
One of the things I love about this filter is its versatility. It fits perfectly in RVs and compact spaces, making it an ideal choice for travelers like me.
With its impressive 20-micron rating and granular activated charcoal filtration, it effectively eliminates chlorine odor, taste, and mineral sediments from the water. Additionally, the Kinetic Degradation Fluxion (KDC) feature keeps the filter antimicrobial, preventing the growth of fungi and algae.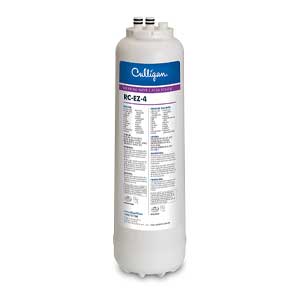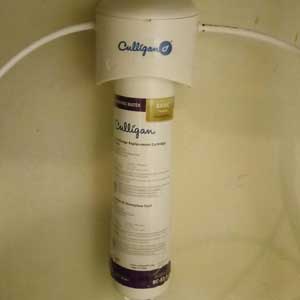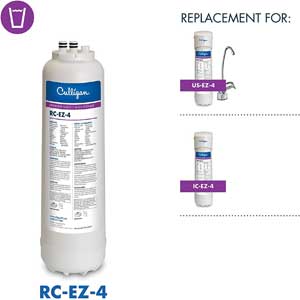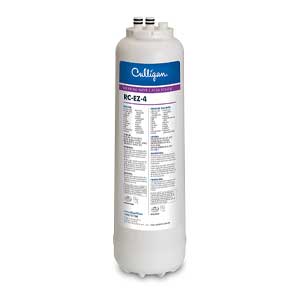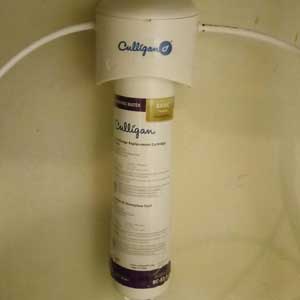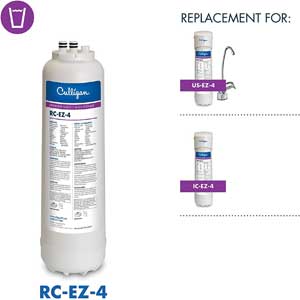 When I first trialed this product, I was immediately impressed by the Culligan brand's longstanding reputation for providing top-notch water solutions and appliances for over eight decades.
Culligan's commitment to excellence is clearly reflected in the technologically advanced features of their products, which tackle old water problems with a modern approach.
What impressed me most was the cartridge's ability to provide 500 gallons of filtered water or up to six months of service, depending on which comes first. This level of convenience makes it an excellent choice for refrigerators, sinks, and icemakers, ensuring clean drinking water and ice with minimal toxins.What sets this cartridge apart is its user-friendly design.
Gone are the days of dealing with messy cartridge changes. With the twist-in and twist-out methods, replacing the cartridge is incredibly easy and hassle-free. Moreover, Culligan includes all the necessary hardware in the pack, allowing for a seamless self-installation process.
The filtration capabilities of this premium filter are truly remarkable, with a 0.5-micron rating that effectively eliminates chlorine odor, foul taste, sediments, metals, minerals, and volatile organic compounds (VOCs) from the water source.
This means that you and your family can confidently enjoy safe drinking water, clean and fresh ice all while saving money compared to the everyday purchase of bottled water.
It's worth noting that if you prefer more budget-friendly options, Culligan offers the flexibility to replace the RC 4 EZ cartridge with the RC 3 EZ or RC 1 Z cartridges, which still provide reliable filtration for your water needs.
Installing this filter is a breeze. It can be easily positioned between the main water line and the water connection, providing a seamless flow of filtered water. To offer extra protection, the filter comes with a hose protector that can be flexibly positioned to prevent any potential damage to the hose.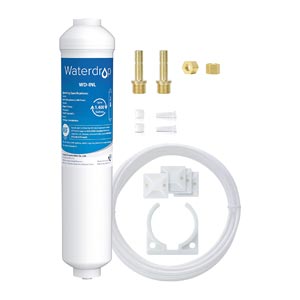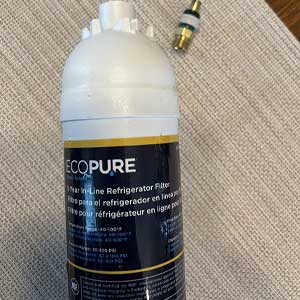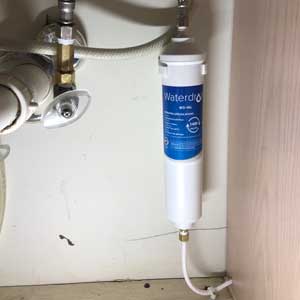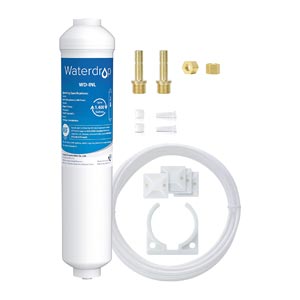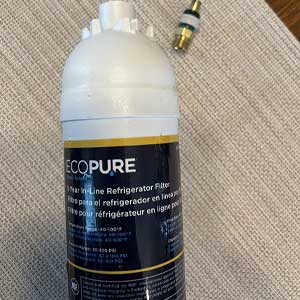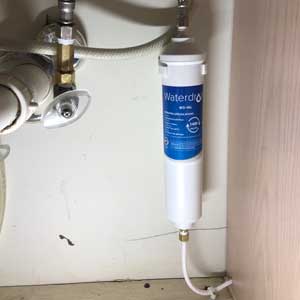 After trying out several options, I can confidently say that this is one of the best inline water filters for ice makers available on the market. It has completely transformed my drinking water experience and the quality of the ice it produces.
Every sip I take now is refreshingly crisp and free from chlorine, sediments, organic chemicals, and other small contaminants. The difference in taste is truly remarkable, and I can't imagine going back to drinking unfiltered water.
What impresses me the most about this inline water filter is its versatility. Not only does it enhance the taste and quality of drinking water, but it also works wonders for ice makers.
The ice produced is now pure and free from impurities, elevating the flavor of my favorite beverages without any unpleasant aftertaste.
It's a game-changer for those who enjoy cold drinks and cocktails.Aside from the exceptional water quality it provides, this inline water filter also brings incredible convenience and savings. Gone are the days of purchasing expensive refrigerator filters or constantly buying packaged drinking water.
With its impressive lifespan of up to 1400 gallons of water (depending on water condition), I can enjoy pure water every day while significantly reducing my expenses.
Setting up this inline water filter was a breeze. In just 5 minutes, I had it installed with the help of the all-inclusive installation kit and convenient push-in connectors. It fits seamlessly with my icemaker, refrigerator, and other appliances, making it incredibly versatile.
Now, I can enjoy clean and great-tasting water from various sources in my home.The long-lasting filtration provided by this filter is truly cost-effective. Unlike the hassle of frequently replacing original filters, this inline water filter delivers consistent performance and savings.
With its 0.5-micron rating and coconut shell carbon-activated filter, it effectively removes impurities, leaving me with pure and refreshing water for a fraction of the cost.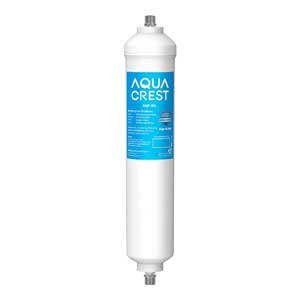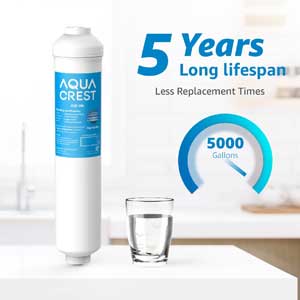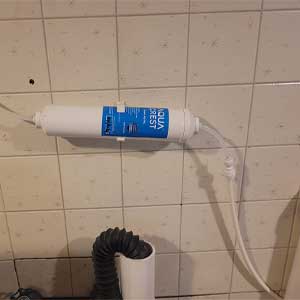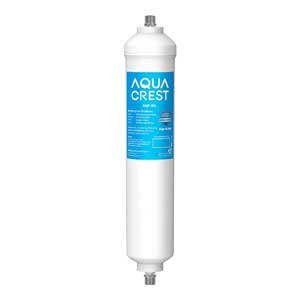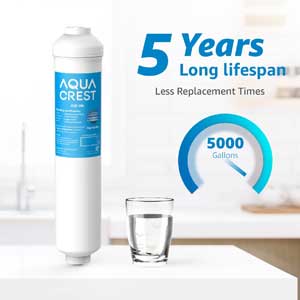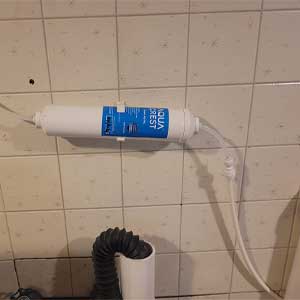 After extensively researching and testing various models, I have found that this particular inline water filter is not only one of the best overall choices but also specifically excels as the best ice maker filter.
Its upgraded fluoride remover mechanism ensures that your ice cubes are free from fluoride, providing you with a truly refreshing and pure ice experience.
With its advanced 0.5-micron coconut shell activated carbon filter medium, this filter effectively eliminates chlorine, harmful compounds, sediments, and other toxic substances from your water.
It goes above and beyond to ensure that your ice is free from impurities, guaranteeing a clean and healthy ice-making process.
One of the remarkable features of this filter is its ability to remove impurities while retaining essential minerals in the water. This is crucial because these minerals are beneficial for your body's hydration and overall well-being. You can enjoy the peace of mind that comes with knowing your ice is not only clean but also enriched with essential minerals.
The filter's outer fine polyester membrane plays a vital role in capturing and trapping sand and solid residue, preventing any particles from reaching your ice maker. This extra layer of filtration ensures that your ice cubes are crystal clear and free from any unwanted particles.
Installing this inline water filter is a breeze, thanks to the comprehensive do-it-yourself installation kit included. It provides all the necessary fittings and accessories to easily mount the filter to your ice maker's main water line, ensuring a seamless and hassle-free setup process.
Durability is also a key feature of this filter. It has undergone rigorous testing for material strength and pressure endurance, ensuring a leak-free operation. You can trust that this filter will maintain its high performance and reliability, even under demanding conditions.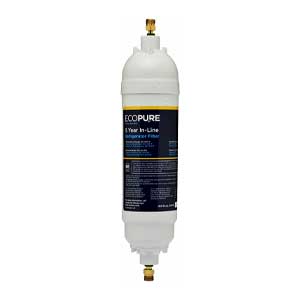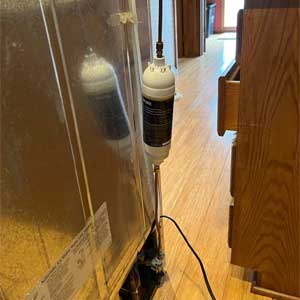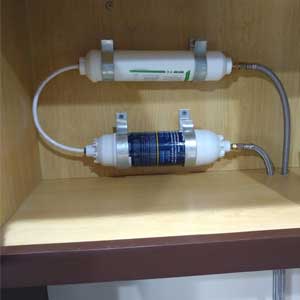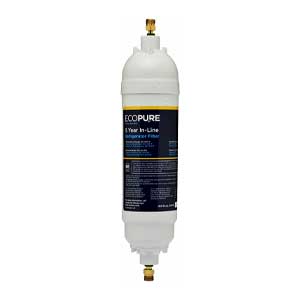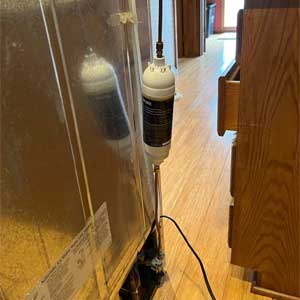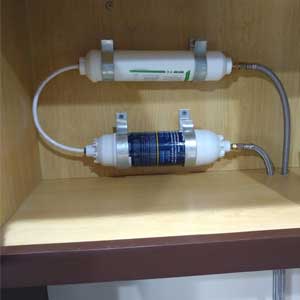 Based on my personal experience and extensive research, I can confidently attest that the Eco Pure Inline water filter is the best long-lasting filter for your refrigerator and ice makers. Its exceptional performance and durability have made a significant difference in my water quality and overall satisfaction.
With a lifespan of 5 years, this filter surpasses all others in terms of longevity. It eliminates the need for frequent replacements and provides consistent filtration for an extended period, saving you time and money in the long run.Installation is a breeze with the included compression and push-to-connect fittings.
I found it incredibly convenient to connect the filter to any main plastic or copper water line. The two plastic nuts provided ensured a secure and leak-free fit, even in tight spaces or under sinks. I appreciate the thoughtful design that prioritizes durability and reliability during installation.
The detailed installation guide that accompanies the filter made the setup process a breeze. Whether you're a seasoned DIY enthusiast or a novice, the clear and concise instructions will guide you through each step, ensuring a hassle-free installation experience.
When it comes to filtration performance, the Eco Pure Inline water filter excels. Its granular carbon-activated filter medium, enhanced with KDF (Kinetic Degradation Fluxion), effectively removes chlorine, cysts, minerals, sediments, toxins, and VOCs, resulting in crisp, clean drinking water and ice.
I noticed a remarkable improvement in the taste and odor of my water, providing me with peace of mind and a refreshing drinking experience.
The versatility of this filter is another standout feature. It is compatible with a wide range of refrigerator brands and inline icemakers, making it an ideal choice for various appliances.
Whether you're using it in your kitchen, office, or recreational vehicle, this filter will seamlessly integrate and deliver exceptional filtration performance.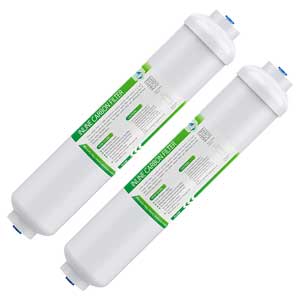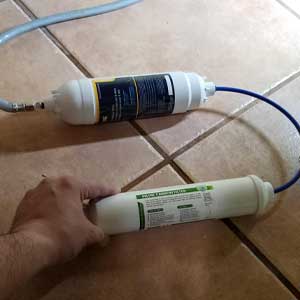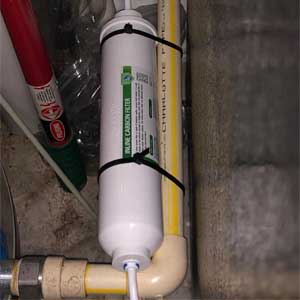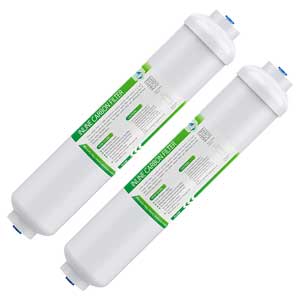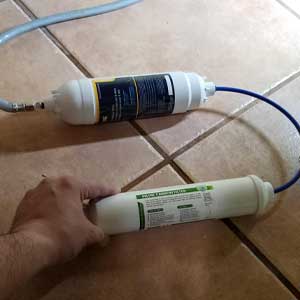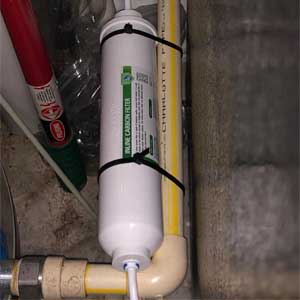 My analysis of this product revealed that it is one of the best inline water filters for ice makers, offering exceptional performance and reliability. The highly efficient filtration system with a coconut carbon-activated membrane ensures that the water used for making ice is pure and free from impurities.
Its ability to absorb minute particles and trap chlorine, unpleasant taste, and odor makes it an ideal choice for ice makers, guaranteeing ice cubes of superior quality.
During my evaluation, I found that this inline water filter comes with standard ¼-inch diameter connectors, which conveniently fit into most water supply lines. This compatibility allowed me to seamlessly integrate the filter into my ice maker's water line without any hassle.
I realized that in certain cases, with the use of appropriate connectors, it can also be fitted naturally to other appliances such as refrigerators and water coolers.
What impressed me the most was the versatility of this filter. It proved to be effective not only for ice makers but also for a wide range of applications, including drinking water equipment, water RO purifiers, RVs, and camps.
This broad compatibility ensured that I could enjoy the benefits of clean and filtered water wherever the filter could be naturally fitted.
In terms of lifespan, my analysis indicated that this inline water filter typically lasts for approximately 6 months, depending on the water's toxicity level in a specific area.
However, it is important to note that if installed after a reverse osmosis (RO) system, its lifespan can be extended up to 12 months. This information allowed me to plan and manage the replacement of the filter accordingly.
How To Choose The Best Inline Water Filter For Ice Maker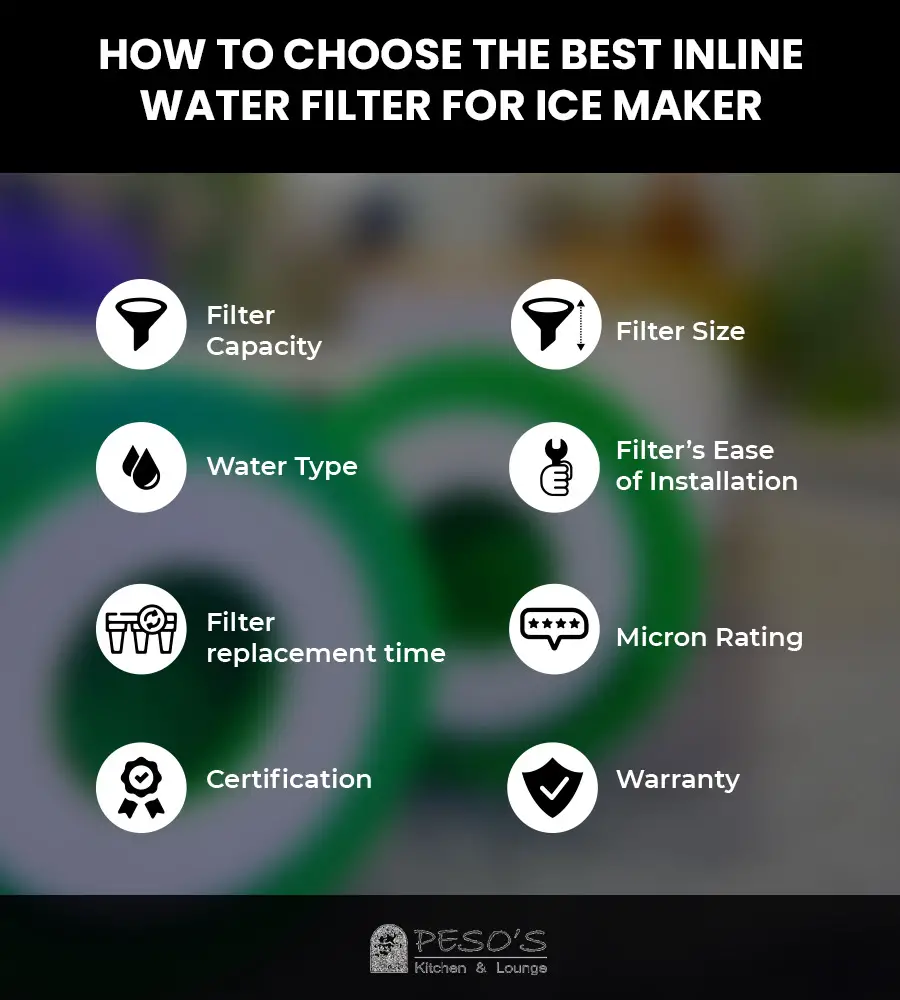 An ice filter must be competent to purify the water to the maximum possible level. There should not be any compromise or haste in choosing an inline water filter because it's a matter of safe ice. These are some factors you must evaluate while buying the best inline water filter for an ice maker:
1. Filter Capacity
Filter capacity is an important deciding factor when buying an inline water filter. The capacity means how many gallons or liters of water the filter can treat in one cycle.
Your daily usage and family size as well as requirements will determine the capacity of the inline water filter you need.
If you have a joint family with kids and more youth members, invest in a high-capacity filter because the total daily water consumption will be
Whereas, a nuclear family can manage with a low to medium-capacity inline filter.
Also, if you are buying an inline filter for commercial use in icemakers, make sure to go for high-capacity water filters.
Inline water filters have capacities ranging from 500 gallons to 20000 gallons.
2. Filter Size
The inline water filters come in many shapes and sizes for adjusting in different spaces. Usually, there are three sizes- small medium, and large.
Size is important so that the inline water filter can be installed in a compact space. Smaller inline filters are more portable. You can carry them on road trips or camping. Moreover, an optimum-sized inline water filter will make installation and replacement much simpler. Extra-large filters can compete for space and hinder day-to-day activities.
3. Water Type
The type of water supplied to your home matters a lot when deciding on the inline water filter. You see water filters also have different mediums through which they remove impurities. The category and density of toxins in water decide which mechanism will be required to deal with them.
The first step is to get your water tested by a professional to know its state. You can even conduct a home water test through a DIY kit.
If you reside in rural areas, you will get sulfuric water high in biotoxins, nitrates, arsenic, chemical pesticide residue, etc.
Whereas urban or city water is loaded with chlorine. It is bad for the skin and hair. Chlorine smell and taste can pass on to drinking water and ice cubes.
City inhabitants also get hard water with heavy metal composition.
Consider buying a charcoal or carbon-activated inline water filter to get rid of chlorine, volatile organic compounds pesticides, fluoride, and other contaminants.
Whereas, a special hard water inline filter is required to remove minerals like calcium, magnesium, and lead. It uses Kinetic Degradation Fluxion for effective filtration.
4. Filter's Ease of Installation
A hassle-free installation saves time and allows smooth functioning. Inline water filters should not require too many tools or effort for installation. For this, you need to check the compatibility of your ice maker machine or refrigerator with an inline water filter by measuring the water line diameter. Inline water filters are fitted securely on the water line, therefore it's necessary to match their size.
Most inline water filters come with a DIY installation kit that has step by step guide for mounting and attaching the filter following a simple procedure.
Try to choose cartridge system filters where you permanently fix a head unit at the initial place of installation. After that, Cartridges are easy to replace with just a twist and pull motion.
5. Filter Replacement Time
Filters get dirty with the accumulation of dirt, dust, minerals, sediments, and other substances. They need timely replacement to continue working in the best quality.
Some filters need replacement periodically after every 6 months while other companies boast their inline filter can work without replacement for 3 to 5 years. Ask your retailer for more information based on past customer reviews and buying patterns.
If your area has a high contamination level in the water, you are likely to change cartridges of the filter more often as impurities settle quickly in large amounts.
6. Micron Rating
The Micron Rating of the inline water filter is directly proportional to the level of water purity. Micron rating means how precisely your filter can filter out small contaminants. It measures which size of particles pass through the filter and which are blocked. Micron ratings range between 5 to 25. Filter with a 25-micron rating does not trap sediments. They are ideal for clearing out chlorine smell. A 5-micron rating filter will clear out all minute toxins like dust, mineral, metals, and more.
7. Certification
Certifications affirm the standard of inline water filters. Different industry regulators and parameters are used to certify filters in many aspects. Inline filters backed by certification perform better as their features are more genuine. Therefore, buy an inline water filter with at least one certification. Some trustworthy certifications are provided by NSF, ANSI, and WQA.
8. Warranty
The warranty protects your investment in the inline water filter. It gives peace of mind and does not make an extra hole in your pocket. Although inline water filters are reasonably priced, it does not hurt to have a warranty.
You can claim free part replacements and repair if your inline water filter breaks or malfunctions due to unexpected circumstances. A product in a warranty period is eligible for availing company-borne inspection services. There can be a limited warranty or a lifetime warranty.
Conclusion
These were some undoubtedly incredible inline water filters for ice makers that promise to give you clean ice with zero aftertastes or odor. Inline water filters are worthy investments for your family's health. If you calculate they are very cost-effective in the long run.
Most water filters come in an affordable range and their replacement time are also not very frequent if you choose the right model. Toxins, chlorine, and organic chemicals can contaminate your drinking water to unacceptable levels. Therefore, it's best to consider an economic as well as effective solution i.e. buying the best inline water filter.
FAQs