7 Best Commercial Margarita Machine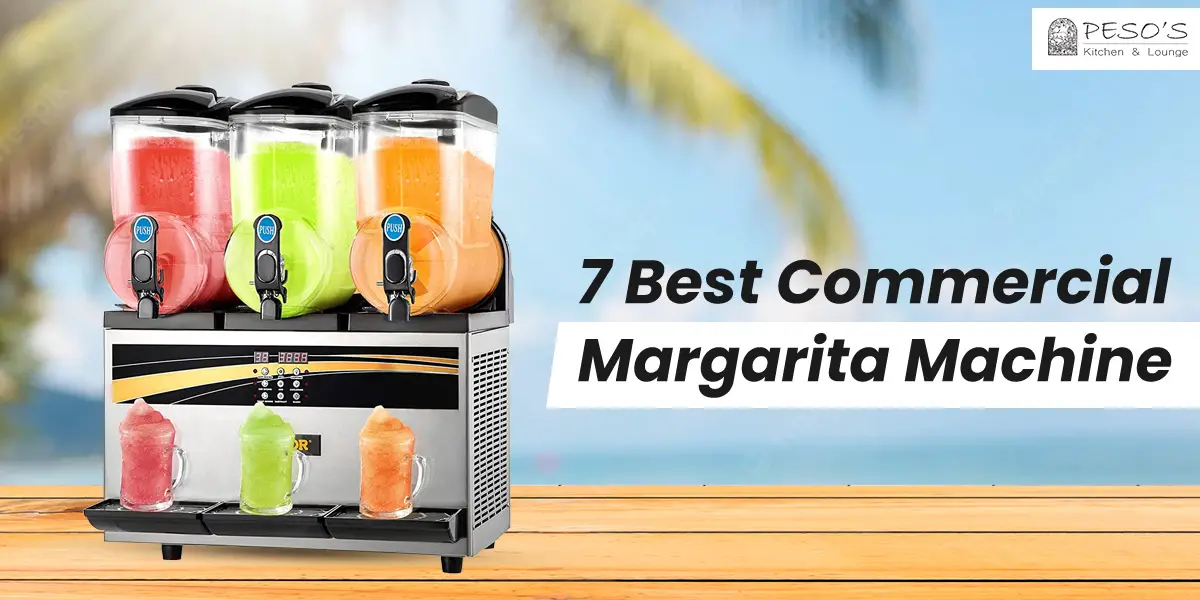 When life gives you limes, make margaritas. It's never a bad day or a wrong time to enjoy a refreshing and zesty margarita or slushie. Margarita is a simple, yet popular cocktail served in parties, pubs, and bars on special occasions, birthdays, victories, etc. You cannot delay the margarita orders while handling a big crowd.
A normal blender is inadequate for performing the job of making quick and perfect margaritas in less time. Commercial Margarita Machines or slushie machines come into action as they are specially designed to shake up top-quality margaritas in a few minutes.
Commercial frozen margarita machines have the capacity, efficiency, and quick blending power without compromising on taste or quality.
There are plenty of brands available in the market. Your Confusions are normal. In this article, we have enumerated the 7 best commercial margarita machines which you can buy for your boozy Venture. Let's Roll.
Comparison Of Our Top Picks
Product Title
Product Title
1. VEVOR 15L Tank Commercial Margarita Machine
2. VEVOR Commercial Margarita Maker
3. Margarita Girl Double-Bowl Full-Size Machine
Weight
Weight
61 lbs
173 lbs
102 lbs
Configuration
Configuration
Single Bowl
Triple Bowl
Double Bowl
Capacity
Capacity
4 Gallons
12 Gallons
100 Cups
Application
Application
Commercial
Commercial
Commercial
Compressor
Warranty
Warranty
1 Year
1 Year
2 Years
Best Commercial Margarita Machine
Margaritas are the most wanted drinks in happy hours. As a bartender, host, or party organizer you must be on your toes to fill maximum glasses in minutes.
Commercial Margarita machine prepares fresh and restaurant-quality frozen margaritas by blending ice, tequila, lime, and orange liqueur in perfect motion. You can sip and celebrate with exhilarating margaritas even at your home if you invest in a commercial margarita machine.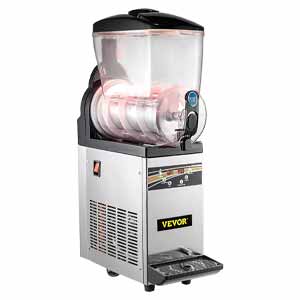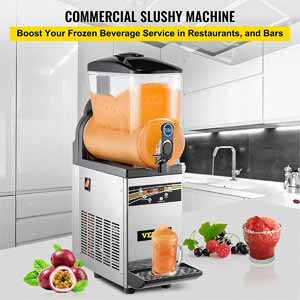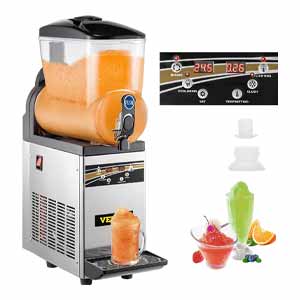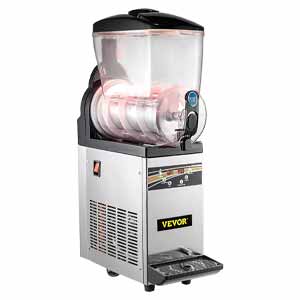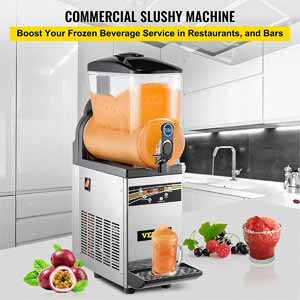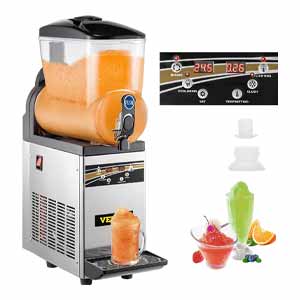 Vevor is a renowned name for manufacturing best-frozen cocktails machine makers. The steel body and sleek styling enhance the ambiance of my space.
It has a 15 L capacity which is ideal for storing a large quantity of margaritas or slush for an upscale party or café serviceI like the control panel and functional buttons.
There is a button for different actions like keeping cool and slushing. I can adjust the temperature between 26.6 °F to 28.4 °F and keep my drinks cool for a longer time. The powerful compressor gives me perfect cocktails and slush in 50 mins which boosts the bar service.
The convenient faucet allows me to pour my drink quickly and effortlessly and the separate glass tray is very handy to replace cups and glasses without spilling drinks over my counter.
| Specifications | |
| --- | --- |
| Capacity | 15 L |
| Power | 500W |
| Weight | 61 Pounds |
| Dimensions | 21 x 8 x 32 inches |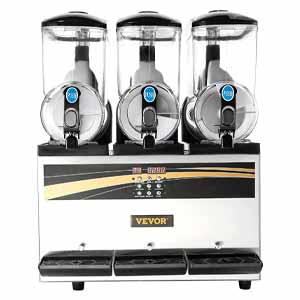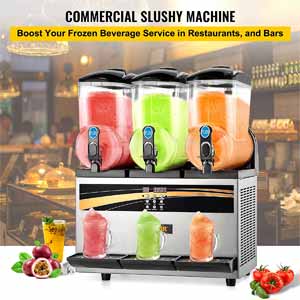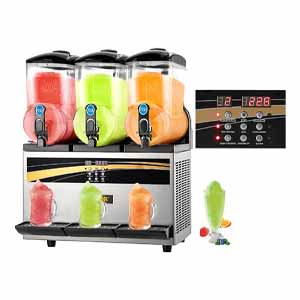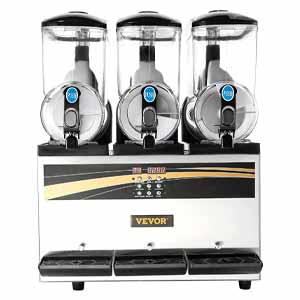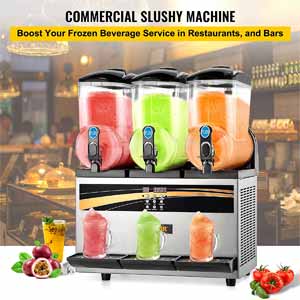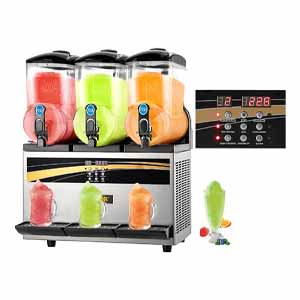 This model is the triple version of the above Vevor commercial Margarita Maker with a 45 L capacity.
There are three separate 15 L jars which give me the freedom to prepare, store and serve a variety of cocktails and slush. It has a highly responsive and accurate control panel that gives me the precision to handle three jars.
The jars can operate independently through the control panel buttons of right mid and left mixing.
A temperature screen displays the degree to which drinks are being stored. I am ready to serve zesty cocktails in under 50 mins with a powerful 800-watt compressor.
There are three detachable trays to place the margarita glasses as well. I can make my drinks look more irresistible by switching on the interior bowl light.
| Specifications | |
| --- | --- |
| Capacity | 45 L |
| Power | 1200W |
| Weight | 185.2 Pounds |
| Dimensions | 24.8 x 17.7 x 31.5 inch |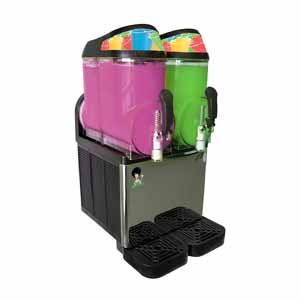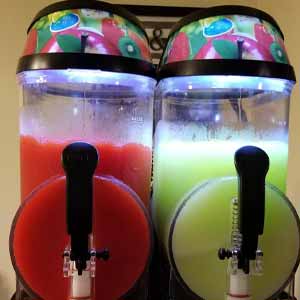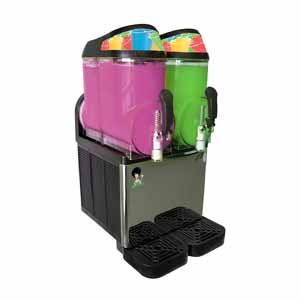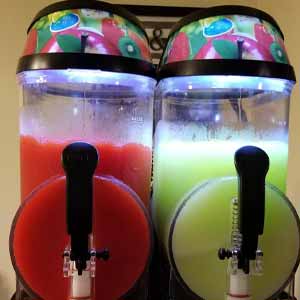 This commercial margarita maker has a high volume for storing large quantities of frozen cocktails at once. I got 100 cups of margarita in just one round.
I am assured of the durable steel panel and high-impact plastic containers. Its fast-acting strong compressor cools up the system in minutes.
I can pour my drink without any drops on the floor or counter with a spring faucet and drip tray. The jars have an independent functioning system that I can control with an easy panel.
I don't have to put much effort into cleaning or maintaining this machine. It is very reliable and efficient in its job. I can fulfill all the beverage demands in no time.
| Specifications | |
| --- | --- |
| Capacity | 100 Cups |
| Power | 245W |
| Weight | 102 Pounds |
| Dimensions | 16″W x 32″H |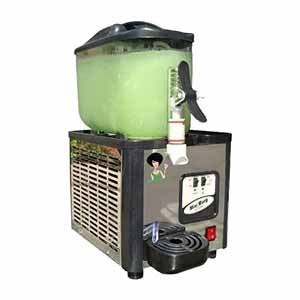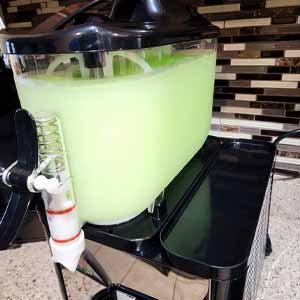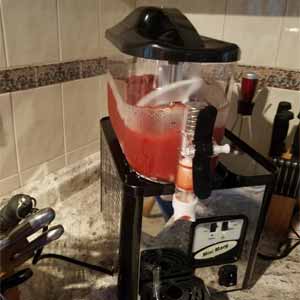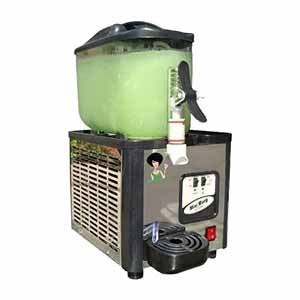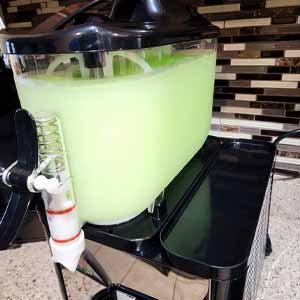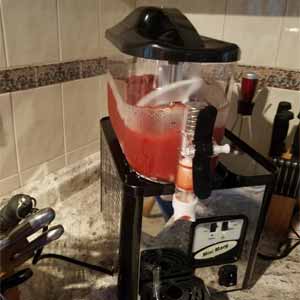 If you are looking for a quick and high-volume capacity commercial margarita maker then this is your best pick.
In one round, this margarita maker gave me decent-sized 25 cups of margarita. This is very helpful for serving and handling a crowd of customers or guests in less time.
It has a high-impact unbreakable plastic jar and stainless-steel body for increased longevity of the machine. I was pleasantly surprised at the ease of cleaning.
There was no hassle. I can pour margarita mixes into this blender or prepare my own home recipes. I realized that this Blender needs high sugar content in drinks to perform and produce the best slushes. Apart from this, I get a 2-year warranty period on this commercial margarita machine for covering any service charges.
| Specifications | |
| --- | --- |
| Capacity | 25 Cups |
| Power | 149.14 W |
| Weight | 39.5 Pounds |
| Dimensions | 12.3 x 10 x 20 inches |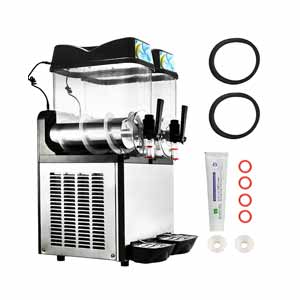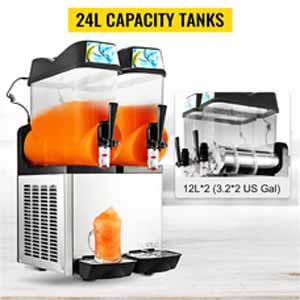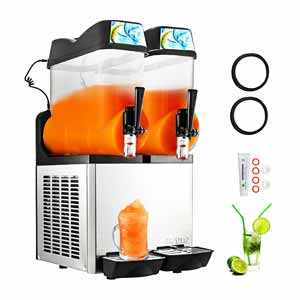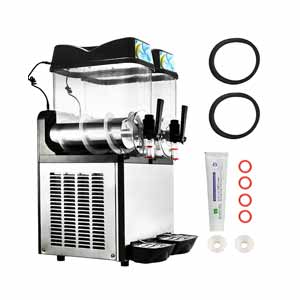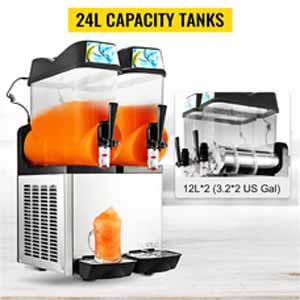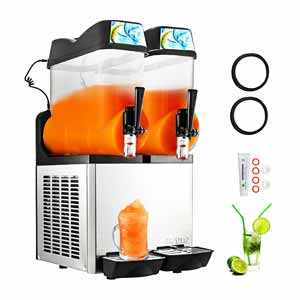 My next best pick for a commercial margarita machine is VBELEM Slushy Machine which has two 12 L jars that equal 24 L cocktail and slush capacity. Firstly, I loved the design of the machine. It has Triple layer steel body and dual food-grade Pc bowls that gives durability to my one-time investment.
Steel Body doesn't allow rust or corrosion to settle on the machine. The 1600-watt high-performing compressor maintains a stable cooling system and prepares my smoothies, cold drinks, and slush in under 35 mins.
The intuitive control panel allows me to customize my beverage settings. There is a unique stir switch that makes sure my ingredients mix uniformly and don't settle at bottom of the jar.
The air vents release any heat build-up from my machine. I feel this is one of the best commercial frozen margarita machines for cafes, restaurants, and bars.
| Specifications | |
| --- | --- |
| Capacity | 25 Cups |
| Power | 149.14 W |
| Weight | 39.5 Pounds |
| Dimensions | 12.3 x 10 x 20 inches |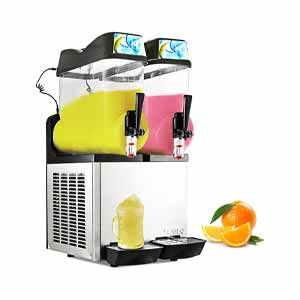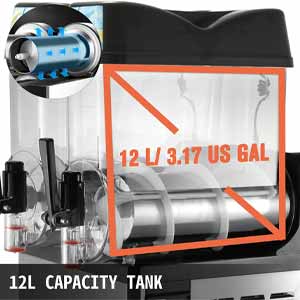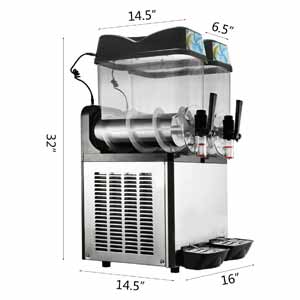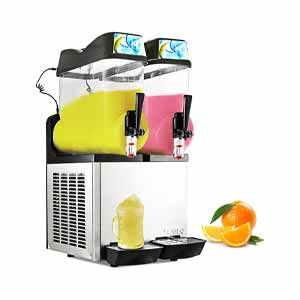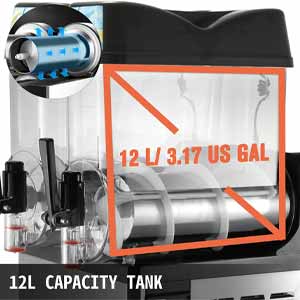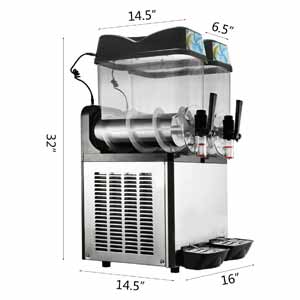 I get my slush job done in 30- 40 mins. It has a double-sided refrigeration system that increases the performance so that I can organize large home parties.
It is very useful in bars and restaurants. I like its food-grade material composition. The body features antioxidant three layers steel body and unbreakable Polycarbonate material large jars.
The control panel is very simple and allows me to adjust the cooling and mixing. I can make cold drinks, cocktails, mocktails, smoothies, and frozen beverages as well as their multifunctional usage.
The air vents are installed on all three sides so that heat can escape freely, and the machine remains chilled. The considerate details like drip stands make this commercial frozen drink machine more desirable.
| Specifications | |
| --- | --- |
| Capacity | 24 L |
| Power | 1600 W |
| Weight | 97 Pounds |
| Dimensions | 16 x 14.5 x 32 inches |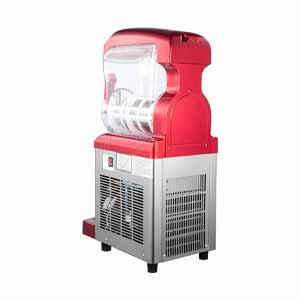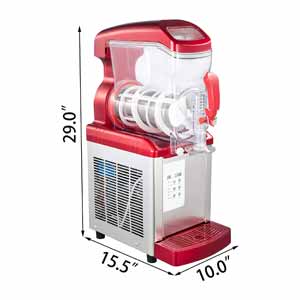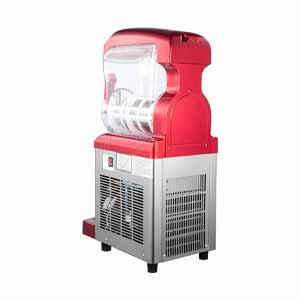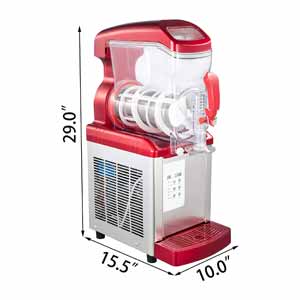 A highly efficient yet compact commercial margarita maker by Vevor. I get an additional dessert-making feature with its 2-in-1 function.
I can make frappes, iced coffee, frozen beverages, smoothies, and other drinkable items. Plus, it has the pro function that makes soft ice cream swirls.
Commercially, this can expand the menu of any café or restaurant. It has a 6 L capacity with sturdy stainless steel composition and PVC cylinder which builds my trust in its longevity.
I can see and adjust the temperature and motor speed through the display screen and 4 mode buttons. The compressor is very powerful for keeping my slushies chilled and fresh for hours.
| Specifications | |
| --- | --- |
| Capacity | 6 L |
| Power | 450 W |
| Weight | 70.5 Pounds |
| Dimensions | 20.7 x 13.6 x 35 inches |
Things To Consider While Buying Best Commercial Margarita Machine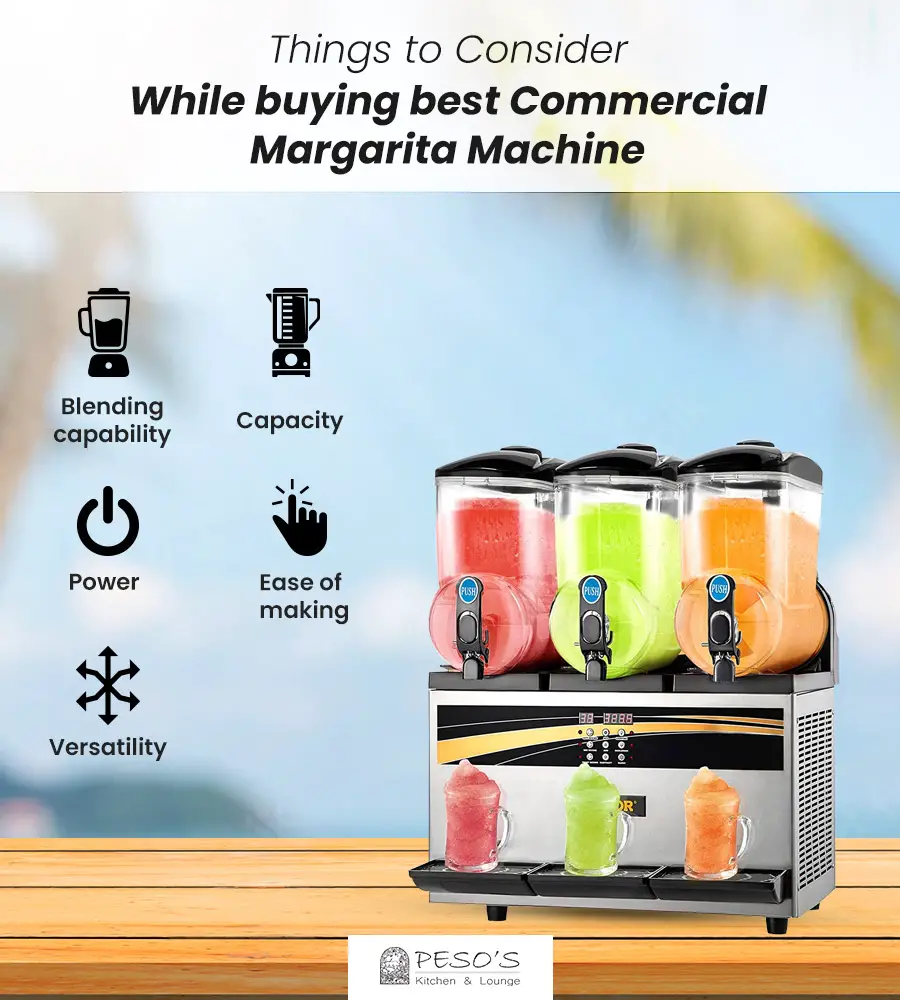 Margaritas taste better with perfection. A Best commercial margarita maker helps you achieve restaurant-style quality in a few simple steps and less time. Certain key elements make the machine more efficient and high performing for your food and beverage business. If you are investing, invest right.
Let's look at these green flags of any best-frozen drink machine:
1. Blending Capability
The blending capacity of a commercial margarita maker is the first and foremost parameter of judgment. The blender must be able to make homogenous drinks with perfect consistency and texture.
All ingredients should be mixed and incorporated into each other properly without any separation or sedimentation. It's better to look for 360-degree rotation blenders which give a thorough shake to your beverage.
2. Capacity
A commercial margarita mixer comes in different-capacity jars. There are single, double, and triple jar options as well. Here you need to identify your business type and need.
If you are purchasing for a restaurant business, café/coffee shop, night clubs, or well-established bar or pub then go for high-capacity commercial margarita makers with a minimum 15 L capacity. For home and personal use, 6L – 12 L jars will be enough for occasional parties.
3. Power
Power means the efficiency of the compressor and the capability of the condenser. High-power compressors make low noise and give quick cooling action to your appliance. At the same time, it saves power. I suggest you find a copper condenser in the product description before buying the machine as it maintains stable refrigeration in your commercial margarita maker.
4. Ease Of Making
Ease of making entirely depends on your control panel settings and button. Most commercial margarita makers have very simple and intuitive operational buttons that help you understand and catch on to the functions pretty quickly. Check if the buttons have the name of the functions.
Some machines have temperature control as well which keeps your slush fresh. Switchable modes enable making a variety of beverages in less time. Look for display screens as well which indicate the temperature. The Led lights will be the cherry on top.
5. Versatility
Versatility refers to the diverse functions of the commercial margarita maker. Investing money just for one drink is not worth it. Make sure you can make different types of beverages and frozen drinks like frappes, smoothies, alcoholic drinks, cocktails, mocktails, slush, granita, and much more with just a single purchase.
This helps you in the expansion of the café/restaurant menu and lets you make the most of your one-time investment. Many best commercial slush machines have modes and buttons which change the function of the blender to make different drinks.
Conclusion
These were the best commercial margarita maker reviews which are tried and tested by us. We hope this guide will help you discover the best fit for your commercial use. Margarita makers and upscaled versions of normal blenders. They are used for preparing more glasses of drinks in less time with the perfection of taste and texture.
Guest pouring in or a party at home, these best commercial margarita makers will be a permanent luxury addition to your bar. No more hassle in making margaritas and slush in high-demand situations. A single button can serve many cups at once. Compare a few products with their features, pros, and cons keeping your end goal as a priority. Keep calm and drink on.
Frequently Asked Questions(FAQs)