Best Sonic Nugget Ice Makers for Home | Reviews & Guide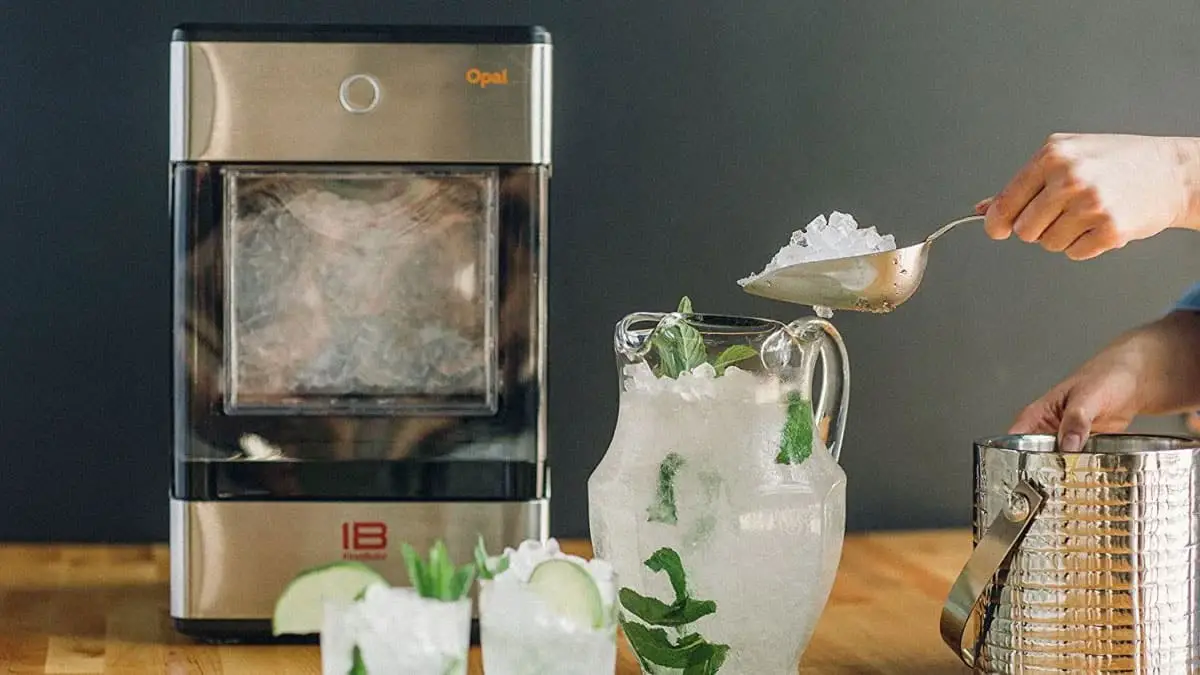 While there may be a general perception about ice makers being a luxury addition rather than an essential one for a home, it might be completely opposite for some people. Only true cocktail fanatics or chilled wine zealots might relate to this, but an uninterrupted supply of on-demand sonic ice could make all the difference for when you're hosting guests or even a composed evening all on your own. Sonic ice is essentially smaller and softer chunks of frozen water as compared to standard ice cubes. This chewable form of ice, also known as 'nugget ice', 'pellet ice' or crunchy ice makes a huge difference and people have been attesting to it. Use this guide to learn more about sonic ice and how exactly it is made.
Someone could argue here if the texture of the ice really has that much of an influence over a drink to which we'd like to quote a statement from Jes'se Torres; a fountain drinks shop owner from Princeton, NJ. She says "there are a pretty decent amount of people who just come here for the ice because they like the chewy ice." Again, you're going to have to experience it to gauge the actual difference. And for that, it'd be best if you got a nugget ice machine for home. These crunchy pellet ice makers come in a fair variety to suit domestic or commercial requirements. You could use your chewable ice maker to personally serve you and your family in your home bar or to cater the needs of business outlets.
Whatever it is that intrigues you towards getting an ice machine that makes sonic ice, we truly think you could use some guidance in narrowing down your options. It could be real job browsing through countless small nugget ice maker models to decide the best one for you. We've put together this guide after a thorough research and we assure you, you can rely on it! This guide features the best nugget ice makers & sonic ice machines across a wide selection of brands, top-selling models and budget ranges. So, without further ado, let's get you some ice to chew on.
Best Ice Makers that Make Sonic Ice – Comparison
Best Sonic Nugget Ice Makers in 2022
Perfect to sit on your kitchen counter or the island, the GE Profile Opal is assured to display its full glory and get your guests to praise you for your taste in kitchen appliances. With a compact 15.5" x 14.24" footprint, the sonic ice maker doesn't quite eat much of your precious counter space. Further, the unit has a water reservoir and requires no water hookup giving you enough liberty to decide its best placement. This provision alone makes it the best nugget ice maker for my family. The only requisite for this countertop sonic ice maker is a standard 120v electrical outlet in close proximity; and you have more chewable ice than you could use in your busiest parties.
For context, the ice machine can produce a batch of soft and crunchy ice within 20 minutes! The ice produced is small, bite-sized, appropriately dense and adds a beautiful texture to your drinks. The bin can hold a hefty 3 pounds of ice at a time.
Overtly known for being a portable nugget ice maker, the Euhomy IM-03D is also acclaimed for its higher output. To be precise, the sonic nugget ice maker produces 26 pounds of soft, chewable and crunchy sonic-style ice per day. This is a remarkably better output as compared to some other portable nugget ice makers.
Further, the ice maker machine ensures that you have a constant supply of sonic ice once you press start. Owing to a built-in high-efficiency compressor, it merely takes 18 minutes for the countertop chewable ice maker to start filling the 3.3 lbs. ice bucket. Commendable output for its size! The unit, according to me, would be ideal for a home bar that demands more than 2-3 drinks at a time or a small-scale commercial snow-cone outlet could use it just as well.
If you're in the early stages of designing your kitchen and plan on being serious with an uninterrupted supply of crystal-clear ice on demand, an undercounter pellet ice maker is what you should be looking for. The Scotsman CU50GA-1 is a prime example of what exactly you achieve with a potentially built-in undercounter nugget ice maker. The unit displays an extravagant stainless-steel finish on the outside and comes with a plethora of features that are nowhere to be seen in cheaper nugget ice machines. Further, it is approved for outdoor use and doesn't necessarily belong under the counter.
The CU50GA-1 essentially produces gourmet sized ice nuggets which are peculiar in their own way. Gourmet sized ice cubes are larger than typical sonic style ice nuggets and are denser in terms of composition. Additionally, the texture of gourmet cube ice is smoother.
I believe I'll be speaking on behalf of most of us if I say we look for a good brand when purchasing a new appliance. If your newly bought countertop nugget ice maker is from a prevalent brand, it's almost always safe to assume that the quality and service will be good. For every one who's on the same page with me, have a look at this countertop chewable ice maker from Frigidaire!
Besides carrying Frigidaire's name, this model has quite a few noteworthy upsides. The design pops out the most to me. I personally seem to be inclined towards a front window design for my countertop nugget ice makers for home. Appearing a bit similar to the GE Opal Nugget Ice maker I listed earlier, this one covers a little more area. To be precise, it has a footprint of 12" x 17".
Reckon a compact countertop nugget ice maker would suffice your requirements? The Euhomy IM-01, in our honest opinion, is a steal for the money it is available for. With a tight footprint of 15.6" x 9.6", this one is a cheap nugget ice maker that would be a perfect addition for small kitchens unwilling to spare much storage space for countertop appliances. The friendly size of this table top ice maker also enables it to be an apt addition for motorhomes and RVs.
However, do not be deceived with its short stature. This rather small nugget ice maker is an absolute workhorse when it comes to deliver consistent results. The unit features a 2.2 litre water tank and is doesn't require an active plumbing connection in addition to a standard electrical power source. The portable pellet ice maker can produce 26 lbs of small bullet-shaped ice nuggets per day with a cycle lasting mere 8 minutes. With two size selections, you can opt between smaller or bigger ice nuggets depending on your preference. Further, the unit alerts you when the tank runs low on water or when the ice bin is full.
In case, the ice nuggets are left in the ice bin for a while, the melted water is recycled back to the water tank ensuring minimal wastage. The user interface is fairly simple and intuitive comprising of light indicators and push buttons. Further, despite quick cycle durations, the ice maker is fairly quiet unlike most other ice makers in this price range. The ice bucket is removable and comes with an additional ice scoop for added convenience. Above all, the unit comes with a 1-year manufacturer's warranty to cover potential malfunctions.
Sonic Ice Makers – A Comprehensive Buying Guide
What Is Sonic Ice?
'Sonic ice', first popularized by the company 'Sonic'; is a unique type of nugget ice that has a lower density, rugged texture and is easily chewable. Due to their peculiar state, sonic ice soon became a phenomenon and is often wrongly used interchangeably with the terms 'nugget ice' or 'pellet ice' Sonic ice is softer than regular ice cubes and melts at a faster rate in drinks. This is usually not the case with nugget style ice from most nugget ice makers. However, there are some models that make nugget ice that's very close to actual sonic ice in terms of density, softness and texture.
There's a minor difference between true sonic ice and nugget ice. Sonic ice is flakier and way softer in texture. We talk more about sonic style flake ice and nugget ice in another one of our guides.
Our recommendation for an ice maker that makes Sonic Ice would be the GE Opal Counter Nugget Ice maker. If you value the state of your nugget ice and prefer softer and easily chewable ice in your drinks, you know which one is your best bet.
Further, table top ice makers that make bullet-style nugget ice also produce ice that's softer than standard cubes. Additionally, the fact that you can select nugget size and opt for smaller ice nuggets further brings the resemblance closer to sonic ice.
Regular Ice Cubes Vs. Chewable Sonic Ice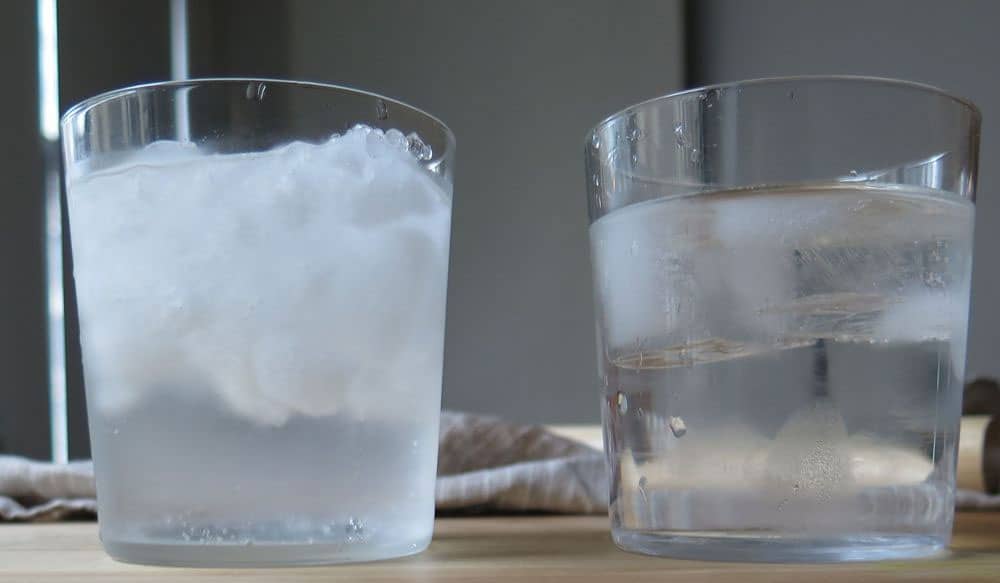 Sonic ice, pellet ice, nugget ice or chewable ice are all quite different from regular ice cubes in multiple ways. For starters, ice cubes are simply frozen water and hence are dense, hard and difficult to chew on. On the contrary, sonic style ice is a mixture of frozen water and air. Chewable ice nuggets are less dense, have a rugged texture and are softer that tend to dissolve on a faster rate and are easier to chew on. Chewable sonic ice goes extremely well with a wide variety of drinks and has replaced regular ice cubes in parties, corporate events and slush places.
Types of Nugget Ice Makers
1. Countertop / Table Top Nugget Ice Makers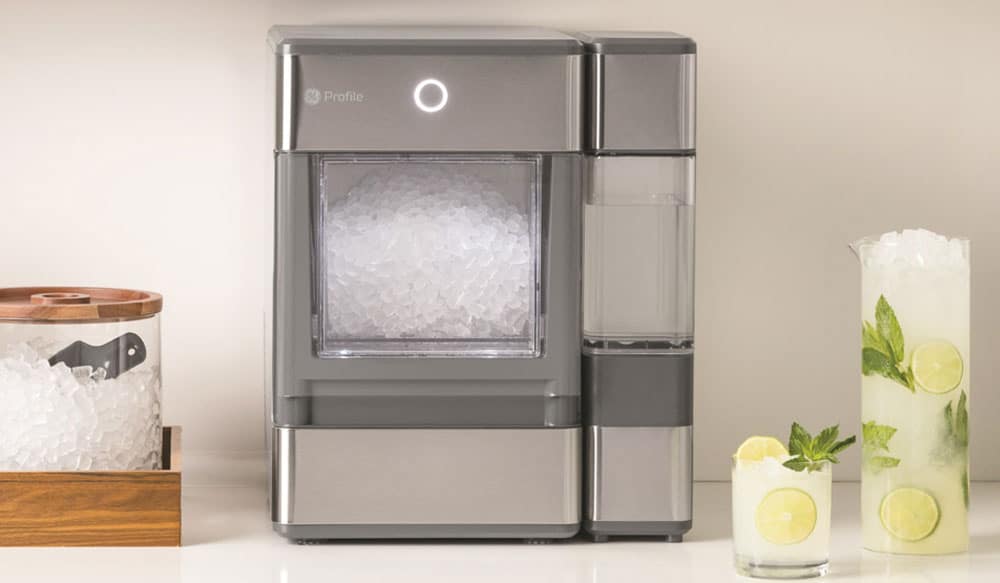 Evident from the name, countertop nugget ice makers are meant to be installed over the counter or the island near an active electrical power source. Countertop pellet ice makers can be essentially divided in two categories; ice machines that make sonic ice and pellet ice makers that make harder ice. A countertop ice machine that makes sonic ice is however more preferred due to the fact that they yield crunchy ice that resembles the original sonic ice. These have a smaller footprint and in turn a smaller output capacity. However, an average countertop unit suffices the requirements of a home bar.
For context, a table top nugget ice maker is rated to produce anywhere between 20 to 40 pounds of sonic ice per day. Additionally, these work on built-in feed water tanks and do not usually require a steady plumbing connection.
The ice bin is usually connected to the water tank and water from the melted ice nuggets is often recycled back to the tank for subsequent cycles thereby preventing wastage. Countertop nugget ice makers are ideal for home use and can handle the load from small to moderate sized parties. However, these would not prove to be a worthy investment for commercial outlets.
2. Undercounter Nugget Ice Machines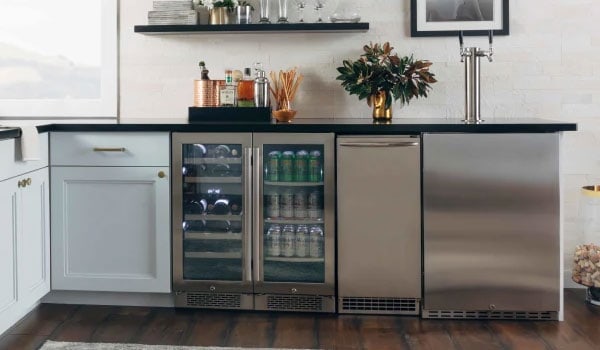 Measuring 33-34 inches in height, these larger pellet ice makers are suited for undercounter installation as that of standard dishwashers. However, these aren't as wide and due to their lesser lateral dimension, most kitchens wouldn't have to compromise on any other fitting to get in one of these. Naturally, an undercounter nugget ice maker has a higher output and can produce 60 – 90 pounds of sonic ice per day. Also, with a higher capacity ice bin, each batch serves more drinks in contrast to small nugget ice makers.
Undercounter nugget ice makers require a plumbing connection in addition to a standard power line and a drain line (or a drain pump, often sold separately). Meaning, an ice maker in this configuration isn't necessarily a cheap nugget ice maker.
Due to the higher output, these are also associated with a higher wastage per pound of ice. These can be used as freestanding units in cafes, restaurants and office suites and are ideal for small to moderate scale commercial applications besides domestic home bars.
3. Ice Machine cum Water Dispensers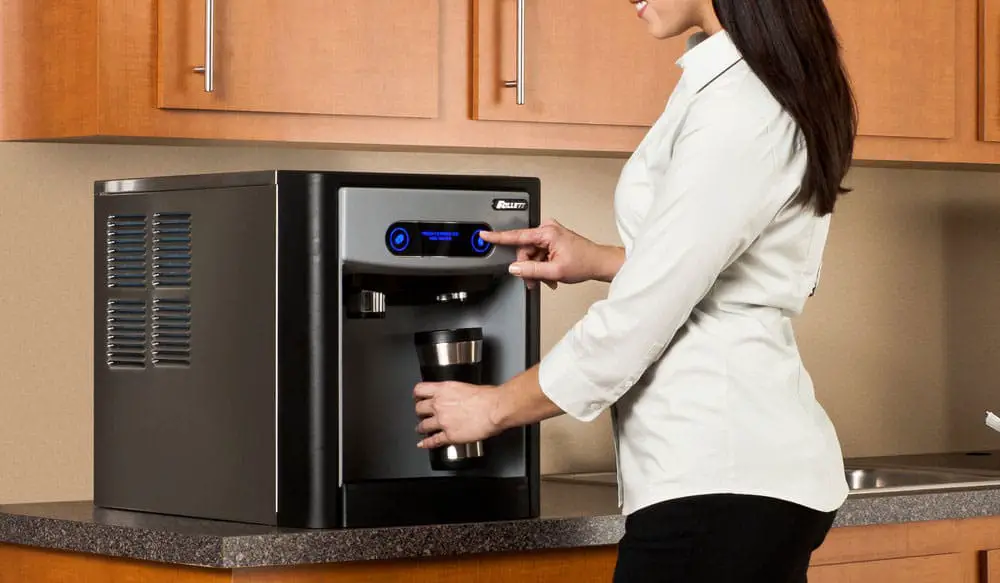 These ice dispensers lie on the higher end of the price scale, being apt for large scale commercial or healthcare applications. These nugget ice makers are in a league of their own when it comes to the output rate. Based on the model and budget, these can produce anywhere between 250 to 320 lbs of ice per day.
Such standards would be an overkill for most small cafes or slush places and hence are only recommended for businesses that have the corresponding requirements.
Factors to Consider Before Buying the Best Sonic Ice Maker
1. Size
As naturally as it comes, it is equally important to consider the space you're willing to compromise to accommodate your new nugget ice maker. Depending on your needs and requirements, you could either opt for compact and portable countertop nugget ice makers or rather big built-in undercounter sonic ice makers. These two categories have quite some difference in their appearance and functionalities. One distinction is that the portable ice makers are air cooled and larger ones are often use water-cooled mechanisms to keep the generated heat in check. Read more on air cooled and water cooled ice making machines.
Needless to mention, the size of your pellet ice maker directly dictates its daily output. As a rule of thumb, if your requirements are limited to your home bar, a table top nugget ice maker with an output of around 30 lbs of ice per day should suffice. On the other hand, if you throw some serious parties and have your place flooded with people quite often, you could as well use an undercounter ice maker that's rated to produce at least 80 lbs of nugget ice per day. The larger the size, however, the tougher the cleaning will be. Cleaning portable ice makers will clearly be easier than cleaning larger undercounter sonic ice making machines.
2. Type of Ice
It must be very clear at this point that ice is just not ice. The density, size, texture of the ice nuggets affects the flavor and feel of a drink beyond obvious comprehension. You must experience it to fully understand. However, if we're on the same page, you need to give a closer look to the type of ice that your favorite nugget ice maker makes. If you're personally a fan of sonic style ice, always look for a mention of soft and chewable ice or crunchy ice in the description of the product that you're set on. Also, sonic ice makers with adjustable nugget size are better to experiment with different drinks.
3. Feed Type
Countertop portable nugget ice makers often come with a water reservoir that is to be filled manually. Although this provision requires more effort, it aids in the portability of the unit as a whole. The water in the tank is taken up and converted into chewable ice nuggets which if melts in bucket, is directed back to the water reservoir. This ensures minimal wastage of water.
On the other hand, undercounter nugget ice makers are to be connected with an active plumbing line with adequate water pressure (20 – 80 psi). Here, the waste water or water from melting ice nuggets is discarded via a drainage mechanism. Hence, there's a marginally larger wastage associated with undercounter nugget ice makers as compared to their portable counterparts. You must decide what feed type would be comfortable with corresponding to your requirements and anticipated installation.
4. Water Quality Sensors
Not all nugget ice makers have this feature but regardless it is something that truly sets a unit apart from inferior passable models. If you truly care about getting crystal clear ice nuggets for you and your guests, it is imperative for you to ensure that the intake water complies with a certain degree of purity. With water quality sensors, you'd be able to set a threshold for hardness that if isn't met, the batch is discarded with an instant notification to you. This feature ensures that proper hygiene is maintained besides ensuring longer efficient functioning of the machine. The reason being, soft water is less likely to scale metallic components of the unit.
Frequently Asked Questions
Conclusion
This guide discusses the necessity and competitiveness of nugget ice makers across a wide range of models and budget range. Subsequently, we've also discussed about the types of ice, their suitability for various drinks and what machine make them best. While all our picks qualify to be called the best sonic ice maker in some capacity, the GE Opal Countertop Nugget Ice Maker stands out for domestic applications whereas, the Ice-O-Matic GEMU090 is an unmatched option for busy home bars or commercial installations.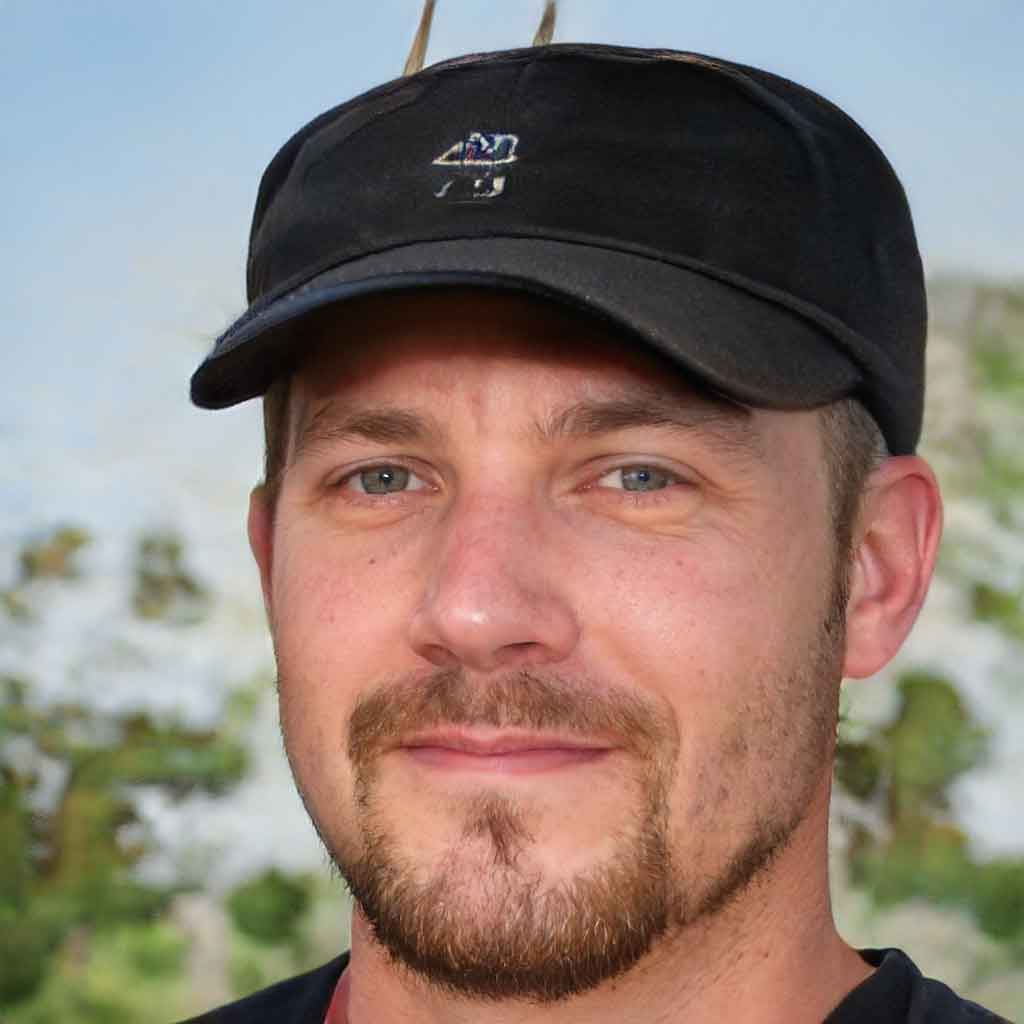 Having worked as a professional bartender for 10 years straight, I've kind of developed this ability to micromanage all factors affecting the strength and feel of my favorite drinks. The type of ice typically has the most to do with it. On PesosKitchenandLounge, I now regularly share my thoughts and knowledge through consistent blogs.