Ice Maker Leaks Water When Filling | DIY Fix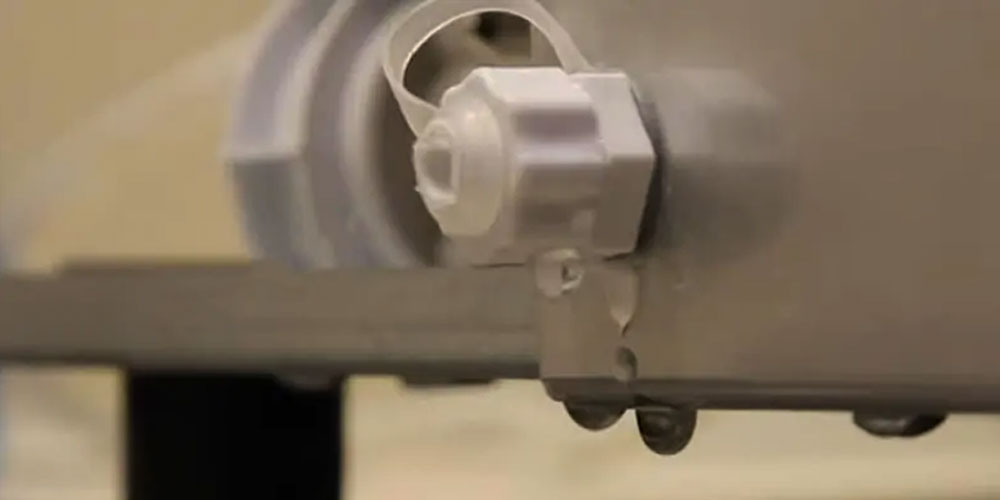 It's a Sunday afternoon, and you have people over for a nice BBQ. Everyone is having a nice time over beer and other liquor when a friend of yours asks for ice. This is a great opportunity for you to show off your newly purchased ice maker. Therefore, you go to your ice maker and put the machine to use. You collect the ice in a container but then notice water leaking from the back of the machine.
Upon deep excavation, you find your ice machine leaking water. There could be a whole lot of reasons behind this. Having a leaky ice machine can be hazardous, especially if you have any other electronic appliances in the vicinity. This is precisely why it is important to address your ice maker leaking water immediately. No matter if its a compact countertop model or a bigger commercial ice maker, if it leaks water, it will automatically decrease the yield of your ice machine.
Therefore, this article will walk you through the probable causes of why your ice maker leaks water. Following this, we will lay down all the possible fixes to tackle this issue.
Our top Ice Maker Picks – Compared
Ice Maker Leaks Water When Filling? Diagnose The Cause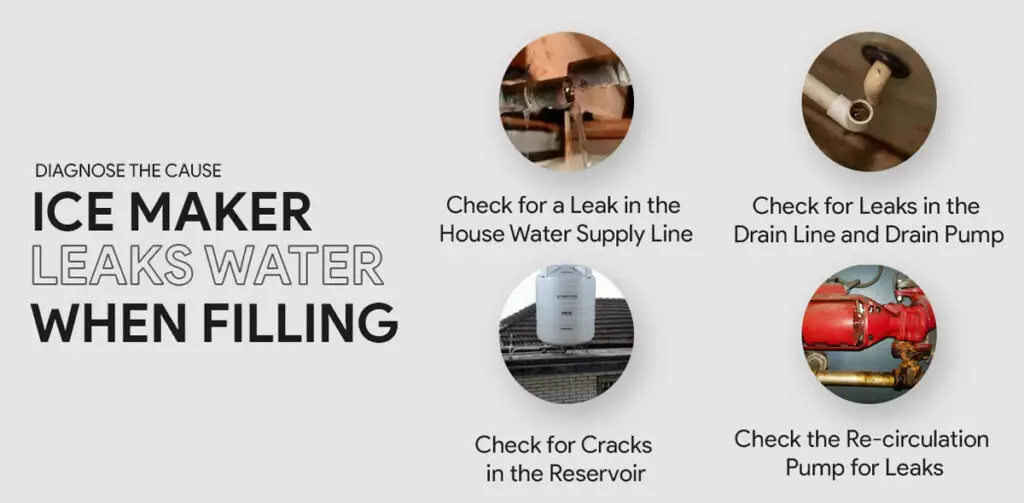 As we mentioned earlier, having a leaky ice machine can be dangerous, especially if electronic appliances are lying around. When it comes to an ice maker, the leak probably originates either at the front or at the back. At times, the leak may not even originate from the unit and could be within the unit. If you notice a leak in your ice machine, you should check the following things to perform a base diagnosis.
1. Check for a Leak in the House Water Supply Line
If there is a leak within your ice maker, then the first thing to do here is check for a leak in the house water supply line. If there is a leak in the house water supply line, then it means your machine is in the clear. However, ensure that you address this issue at the earliest. To detect a leak, check the meter measuring the water being used in the house. Now, turn off the water for every faucet and toilet in the house. If you see the meter moving, then there is a leak in the house water supply line.
2. Check for Leaks in the Drain Line and Drain Pump
If at all there is a leak in the drain line or the drain pump, you can easily make it out by the sound of trickling water. If you hear the sound of water dripping somewhere, then there is a leak in the drain line. Another common symptom to look out for is a damaged floorboard or a bad smell originating within or from outside your house. Yet another good way to check for leaks in the drain line is to look out for moldy walls or an increased number of rodents and insects.
3. Check for Cracks in the Reservoir
At times, the problem lies within the main reservoir of your house. If you have a large water tank that supplies water throughout the house, it can develop cracks over time. In such cases, you need to get this crack fixed as soon as possible. The best way to check for a crack is to check for tilting of walls, deflection, staining, or corrosion within or nearby the reservoir.
4. Check the Re-circulation Pump for Leaks
The circulating pump is perhaps easier to check for cracks or leaks. To check if your recirculation pump is leaking, see if the water flow isn't hot despite a running pump. Another way to check for leaks is to see if the pump makes unusual noises every time water flows through it. Meanwhile, if the pump casing feels hot, it is probably during the leakage.
Potential Fixes to a Leaking Ice Maker
Now that we have walked you through the different probable causes why your ice machine leaks water, it is time to move on to the fixes. So, if you have a leaky ice machine, you can implement the following fixes.
1. Replace the Ice Maker Water Inlet Valve
For your ice maker to produce ice, it needs to be supplied with water. This is done via the inlet valve present within the ice maker. This inlet valve is attached to the main water reservoir. However, if this inlet valve develops cracks, then you are likely to have a water leak everywhere. Although, knowing where the leak has occurred within the valve can be a tough job. Therefore, if you have an ice machine leak, then it is best to replace the ice maker inlet valve firsthand.
2. Replace the Ice Maker Recirculation Pump
As we mentioned earlier, one of the primary reasons your ice machine leaks water is a faulty recirculation pump. If there is a constant water supply to the ice machine, but the water isn't hot when it flows through the pump, then it is because there are cracks developed within the recirculation pump. Therefore, replacing the recirculation pump is your best bet, just like the inlet valve. Once you replace the recirculation pump, check to see if the water flow is warm during the water supply.
3. Replace the Ice-Make Drain Pump
If your drain pump develops cracks, you will be able to see its after-effects on numerous occasions. For example, a leaky drainage pump or pipe automatically leads to a rotten or pungent smell which is unbearable. Similarly, if you see molds developed over your housewalls or damaged floorboard, then it means there is significant drainage within the drainage pump. Here, all you can do is replace the ice maker drain pump at the earliest.
Also Read:
The Bottom Line
Having a leaky ice machine can really put you on the spot. It can be hazardous, especially if there are other electrical peripherals around. Similarly, having an ice machine leaking water will drastically reduce the machine's yield per hour. Therefore, you can use our guide and fix the issue as soon as possible.
While this may solve some cases, not all essentially resolve. If your ice maker is old and squealing for help every time you make it work, it may very well be a great idea to just get a new nugget ice maker altogether. Owning an ice maker that keeps ice frozen for longer in the basket will also prove helpful for someone with a history of leaking ice makers.