How to Clean GE Opal Ice Maker? Step-by-Step Guide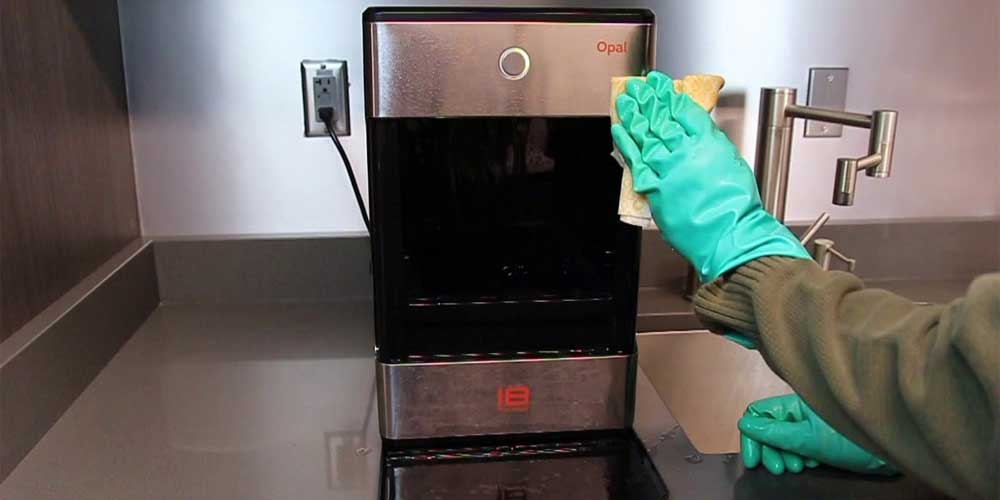 An ice maker is one of the most widely used appliances in modern-day housing. With an ice maker at your disposal, you needn't worry about waiting for long hours to get fresh ice for your juice, liquor, or any other relevant products. Ice makers are designed explicitly with a mechanism to deliver faster and more efficient ice and comes in handy. Also, the majority of these nugget ice makers are portable meaning that you can carry it from one place to another with great ease. 
When you set out to buy an ice maker, you'll be baffled by the number of choices there are at your disposal. But to make choosing easier for you, you can opt for GE Opal Ice Maker. GE is one of the oldest and one of the most preferred ice makers. However, there is more to buying an ice maker. Knowing how to clean opal ice maker is essential to make your ice maker last longer. Occasional cleaning of your GE Opal Ice maker also keeps it from running in frequent problems.
Therefore, this article will walk you through on how to clean an opal ice maker. Here, we have laid down the different ways of cleaning the opal ice maker. 
How Often Should You Clean Your Opal Ice Maker?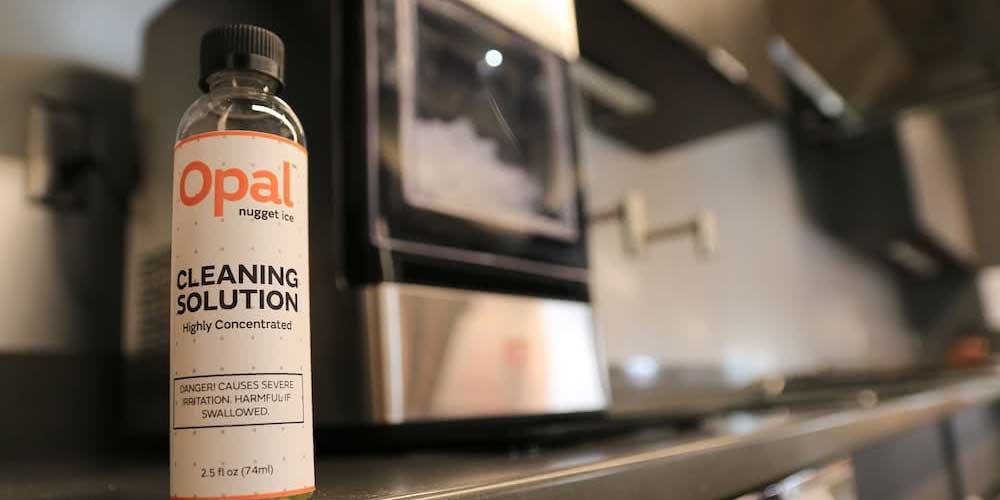 As we mentioned above, there is more to an ice machine than just buying it. Knowing how to clean opal ice maker is key for ensuring the durability and longevity of the ice maker. To ensure this does happen, you must always clean your opal ice maker weekly. Cleaning an ice maker is an easy task. All you need are a few easily available ingredients and you are done with them. But irrespective of how easy the opal ice maker cleaning is, one must only clean it on a weekly basis. 
Cleaning The Opal Ice Maker
Once we have established the on how often you should clean the opal ice maker, it's time to get down to business. But note that when cleaning the opal ice maker, one must exercise maximum caution as even a small mistake can cost you a sizeable chunk of money. 
What You'll Need?
When it comes to cleaning the opal ice maker, here is the list of ingredients you need to have
Soft Cloth
Water
Soapy Water
Liquid Stainless Cleaner / GE Opal Cleaning Kit
Bleach
White Vinegar
GE Nugget Ice Maker Cleaning Instructions
As we said earlier, you need to exercise maximum caution when it comes to cleaning the opal ice maker. Even a single mishap could cost you a lot of money. Before you get down to cleaning, you need to prepare the opal ice maker for cleaning. To do so,
Turn off the ice maker and unplug it from the power socket
Leave the ice maker like this for 1 hour
Remove the filer
Reinstall the reservoir 
Check for water or mineral buildup
If at all there is any, use a pen to unclog it
Drain the water from the drain tube.
Once you have prepped the ice maker, you can start cleaning now
Mix 5 cups of water with 1 tbsp of household bleach to create a solution
Plugin the ice maker
Slide the switch on the ice maker to a Clean position
Pour the solution into the water reservoir
Touch the display button
Start the cleaning process
Wait for atleast three minutes
When the water stops circulating, drain the solution by unhooking the top of the drain hose
Remove the drain plug to completely drain the water
Reinsert the drain plug
Add 6 cups of freshwater into the reservoir
Rinse the ice maker with fresh water
Repeat this cycle at least 10 times
Replace the drain tubes on the back of the machine
Slide the machine back to ice mode
Remove Mineral Deposits
Irrespective of how clean your ice make looks from the outside, there are always some mineral and hard water residue left behind. The GE Opal ice maker uses water to turn it into sonic ice, so it natural for it to develop scales from the minerals present in the water. Removing these mineral deposits is also often termed as descaling. If you don't remove mineral deposits, then it will automatically affect the quality of ice produced. To remove mineral deposits, 
Slide the machine's switch to Clean mode
Plug in the ice maker into a power socket
Fill the reservoir with white vinegar to the brim
Perform three cleaning cycles 
LEave the vinegar in the machine for atleast 18 hours
Set aside a vinegar soaked towel on the ice chute overnight
Clean the sensors with white vinegar
Wipe clean with water
Rinse the machine with fresh water
Perform atleast 4 cycles.
The following guide from General Electric exhibits how you can descale your GE Opal Ice Maker –
Clean The Exteriors
Just as we take care of the interior of the machine,  it is equally important to clean the exteriors as well. All you need to do is
Make a solution comprising of water and soap
Remove the plug from the power source
Using a soft towel, wipe the exterior surface
Soak the towel in freshwater and then wipe clean the exterior of the ice maker
Dry it using a soft cloth
Additional Tips to Maintain Your Opal Ice Maker in Good Working Condition 
Irrespective of whether you are using a luxurious party machine or a basic fridge, subjecting your ice maker to regular maintenance is the key to making it last longer. Without regular care and maintenance, your ice maker will suffer from all sorts of issues. Therefore, here are some additional tips to maintain your opal ice maker in a good working condition
Subjecting your ice maker to regular cleaning
Periodically sanitising your ice maker
Changing the filters
Descaling your ice maker
Declogging your ice machine from time to time
Checking for chute blockages
Ensuring maximum ventilation 
The Bottom Line
We hope our article was successfully able to walk you through cleaning the opal ice maker. Make sure you prep your ice maker before you clean it. Always exercise maximum caution when cleaning the opal ice maker.