Why are Nugget Ice Makers So Expensive?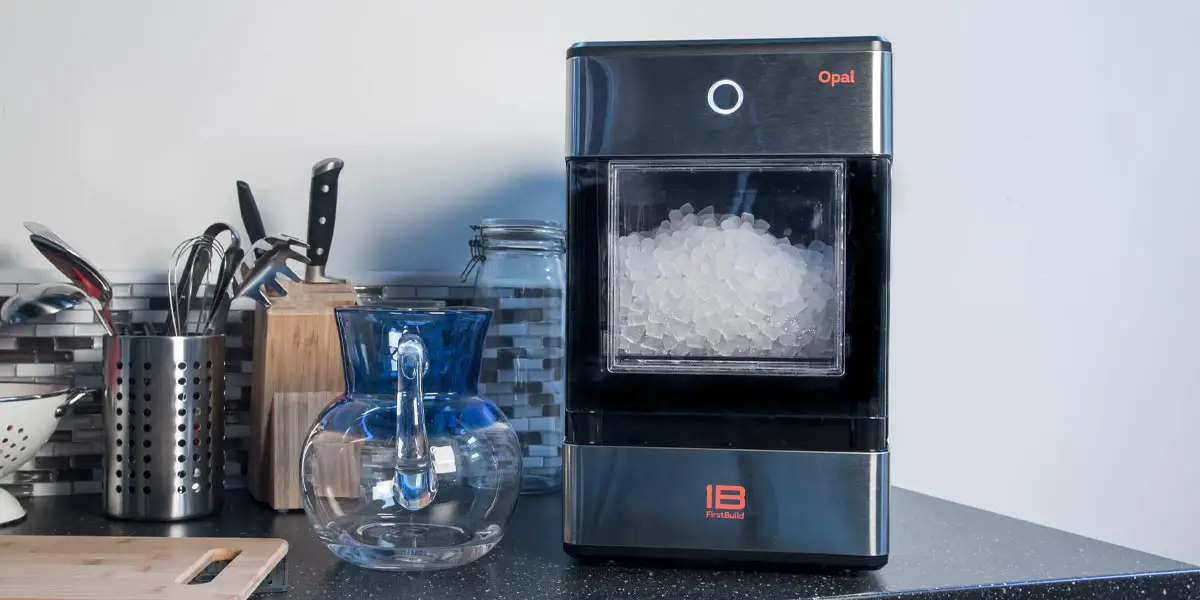 If you are in the restaurant business or live in a region marred by heat throughout the year, an ice maker is a must-have appliance for your household. This is because ice makers are designed explicitly to deliver you fast, clear, and efficient ice whenever required. Modern-day ice makers come in different shapes and sizes. The majority of them are configured to deliver a single type of ice with maximum efficiency, whether that is in the form of a cube, nugget, or flake.
One such is a countertop nugget ice maker. If you look carefully, nugget ice makers are the most expensive ice makers in the market. But have you ever wondered why are nugget ice makers so expensive? This is precisely the question we will be answering through this article. This article will walk you through everything that contributes to the high value of a countertop nugget ice maker. 
What Are Nugget Ice Makers?
When it comes to ice, most of us are familiar with ice cubes, ice balls, or shaved ice. But nugget ice happens to be the most sought ice in the modern-day market. If you have ever had nugget ice, you'll know that the ice is soft, airy, and chewable.
This is because nugget tends to flow around more evenly than ice cubes and ice balls. Given all these properties, you need a nugget ice maker, a machine designed explicitly to help deliver fresh nugget ice. Since the process is long, counter nugget ice makers are quite expensive. 
How Much Do Nugget Ice Makers Cost?
Given its unique properties, nugget ice is the most sought ice out there. Although it possesses some unique properties, it features a significantly complicated process. To bring about this process, nugget ice makers are generally expensive because they are largely purchased for business purposes. 
An average undercounter nugget ice maker costs around $4000
An average dispensing nugget ice maker costs around $5500
An average commercial nugget ice maker costs around $8000
Why Are Nugget Ice Makers So Expensive?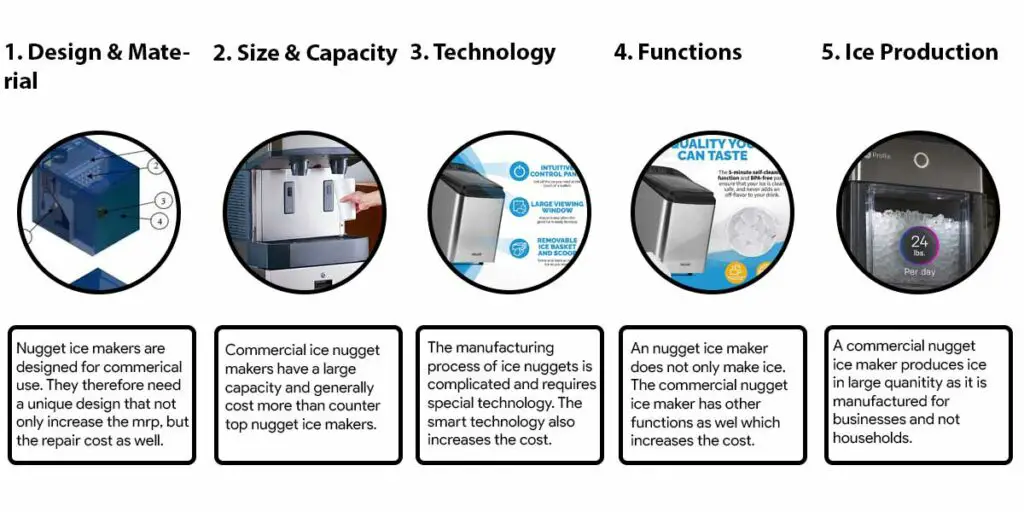 There are a lot of reasons as to why a countertop nugget ice maker is so damn expensive. As we mentioned, making nuggets is a very complicated process. Primarily, nugget ice makers tend to be expensive because of their size, overall design, technology, and their ability to deliver soft and chewable ice nuggets. Let's take a quick look at what contributes to the high price tag of the best countertop nugget ice maker.
1. Design And Material
Nugget ice makers are designed explicitly for commercial usage, which adds to the cost. Given its unique design, even small repairs need you to call in an expert to look at the machine. Since their functionality is on the higher side, these nugget ice makers comprise a built-in drain pump, sturdy base construction, stainless steel panels, and other features. 
2. Size And Capacity
A commercial nugget ice maker is very big. The size is larger to meet a wide array of customer demands. The larger the size, the more materials the machine translates for producing ice. Although the size adds to the machine's functionality, it largely increases the cost as well. An average nugget ice maker has around 3 lbs of ice storage capacity and can function at an ice-making rate of 24 lbs per day. 
3. Innovative Technology
Although the process to deliver nugget ice is complicated, a countertop nugget ice maker comes equipped with all the features required to make it possible. These nugget ice makers feature a technical set-up aimed primarily at large-scale nugget ice production. Given its huge size, a more smart technology drives the machine to deliver fast and efficient ice.
4. Convenient Functions
If you think a nugget ice maker delivers only ice, then you are mistaken. This is because a commercial nugget maker is designed to perform a wide array of functions and not just deliver ice. This is precisely why owning a commercial ice maker can make you a reliable ice supplier.
5. Production Of Ice
When you opt for a commercial ice maker, it is bound to deliver a large quantity of ice. Similarly, commercial ice makers are designed explicitly to favor large ice production. To make this possible, there are special regulatory features that ease the operational control of the product and add to overall productivity. But these regulatory features again mean additional costs. 
The Bottom Line
As we mentioned at the start of the article, having a commercial maker is a necessity if you are in the restaurant business. But since commercial nugget ice makers are large and expensive, they aren't your ideal household appliance. Instead, you can opt for a countertop nugget ice maker for your house as they feature a compact design and are relatively inexpensive compared to a commercial one. 
FAQs