Best Electric Ice Crushers for Home Use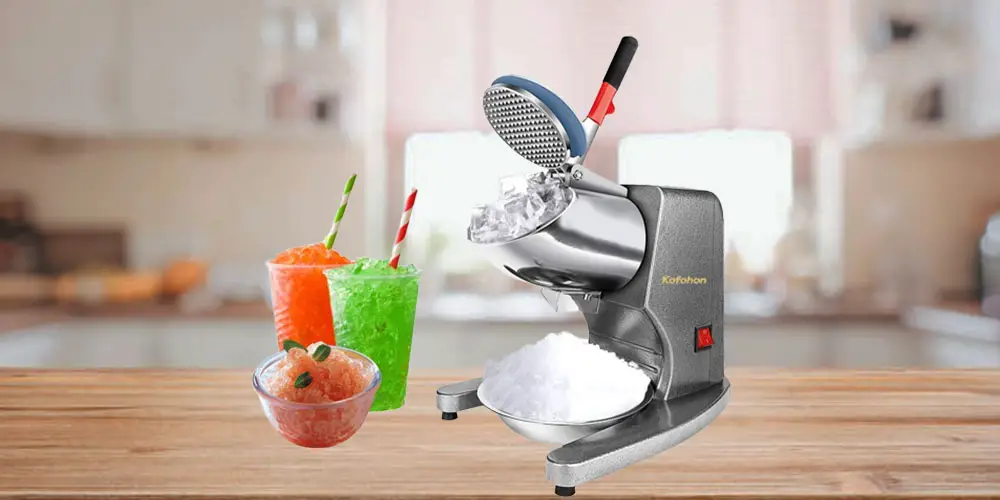 Summer's fast approaching, and we all need to escape the wrath of the sun. The time has come for each and every one of us to come up with ways to keep ourselves cool. As a result, we get an AC installed to load the freezer with tonnes of ice cream, frozen yogurt, and other similar products that we think will help during the long run. But given the soaring temperature during the summer, we need to find a way to keep these products intact. Because a normal freezer ice tray won't do you much good if the heat outside is blazing.
Although ice cubes are an easy go to on a hot summer afternoon which why nugget ice makers have been gaining popularity, not all days are the same. Some days you might just be craving for a cup of sweetened shaved ice. In such cases, an electric ice crusher can work wonders for you. While initially, you can think of putting those cubes under the hammer, a professional route is always the better. And by professional, we meant opting for an electric ice crusher.
Given that there are multiple manufacturers out there, choosing one product can be tough. Therefore, here we have laid down some of the best electric ice crushers for home use.
Our Top Picks
Product Title
Product Title
1. Cuisinart SCM-10P1 Snow Cone Maker
2. VIVOHOME Electric Dual Blades Ice Crusher
3. OKF Three Blades Electric Ice Shaver
4. VIVOHOME Electric Dual Blades Ice Crusher Shaver
5. KOFOHON Electric Ice Crusher Shaver
Weight
Weight
7 lbs.
12.3 lbs.
11 lbs.
21.2 lbs.
12 lbs.
Rotation Speed
Rotation Speed
N/A
2000 RPM
1500 RPM
N/A
2000 RPM
Waterproof Switch
Waterproof Switch
Yes
Yes
Yes
Yes
No
Crushing Capacity
Crushing Capacity
4-5 Cones/min
143 lbs/hr
220 lbs/hr
440 lbs/hr
216 lbs/hr
Warranty
Warranty
5 Year Limited
1 Year
N/A
1 Year
Limited Lifetime
The Best Electric Ice Crushers for Cocktails and Drinks at Home
As we mentioned above, ice trays are good but are fairly limited in their application. Hence, opting for the best electric ice crusher for home use is probably the better since it can help you get the most out of your ice. You might have come across an cocktail ice crushers at bars, hotels, banquet halls, or other similar locations. This would've made you think that ice crushers aren't typically an appliance designed for home-usage. However, you couldn't have been more wrong here.
In fact, an electric ice crusher is an incredibly helpful appliance for home-usage. Right from liquor to ice cream, a crusher can supply ice to suffice each and every need of yours. Therefore, here are some of the best electric ice crushers for cocktails and drinks at home.
Not just snowcones, but this cuisinart is perfect for slushies and frozen drinks. You can make delicious icy, sweet treats in minutes with this machine. This cuisinart is extremely easy to operate. All you need to do is add 4-5 ice cubes, and the machine will shave the cubes in just under a minute.
Here, you can get shaved ice to top off your liquor, syrup, juice, or any other adult drinks. Given its easy architecture, just flip a switch to get the machine started. Meanwhile, this machine is lightweight and compact enough to fit into closed spaces. Also, given its minimum weight, this machine can be easily moved around during parties.
The ice bin is reasonably easy to remove and clean. All the parts that come into contact with the food are BPA-free. It comes with a professional blade and motor mechanism with an interlock safety feature. With the Cuisinart, you can easily make around 4-5 snowcones in less than a minute.
PROS —
Easy To Assemble
Fast Operation Speed
Hold Up To Five Cups At Once
This electric dual blades ice crusher features an easy operation design. With the sharp dual blades, you get softer, finer, and a fluffier snow cone. This electric ice crusher has a powerful electric motor that can crush up to 143 lbs of ice per hour. Given its higher crusher body and elbow, you get the desired aesthetics and more space for containers such as goblets, bowls, etc.
The VIVOHOME dual blades ice crusher can deliver ice in three different ways at different times. So, whether you need crushed ice for your margarita or shaved ice for a quick sherbet, this machine will do it for you. While one blade gives you meshed and shaved ice, the other blade gives you finely shaved ice.
The best part of this machine is that it makes no noise whatsoever. Meanwhile, there is an ingenious waterproof switch, meaning you can use it around water without worrying whatsoever.
PROS —
Noise Free
Suitable For Commercial And Home Usage
Faster Output
If you are looking for the powerful and best electric ice crusher for home use, the OKF Three Blades Electric Ice Shaver is perhaps your best bet. This machine comes with three blades that help it deliver three different types of ice at different times. All this is powered by a robust electric motor that is capable of crushing up to 220 lbs of shaved ice per hour.
Meanwhile, it comes with a splash prevent design, meaning you needn't worry about the ice splashing everywhere when the crusher is in use. Post usage, this machine is extremely easy to use and saves you from the hassle of going to great lengths to get this cleaned.
This machine is both time and energy-saving and delivers the perfect snow cone to suit any of your gatherings. In terms of ergonomics, there is an arc-shaped back design that helps considerably reduce noise and vibration. Overall, the safety design has a waterproof on/off switch that turns on/off the blade automatically when switched on/off.
PROS —
Three-Blades
Safety Design
Easy To Clean
If you are looking for the best electric ice crusher for home use, then your search ends with the VIVOHOME Electric Dual Blades Ice Crusher for Home. This dual blade ice shaver is very much capable of handing out up to 440 lbs of ice per hour, making this machine extremely reliable during large gatherings.
In terms of build quality, this machine is built using stainless steel hopper blade, which is fully resistant to dust rust and requires extremely low maintenance. Meanwhile, the dual blades are made using sturdy and durable material, due to which they can deliver maximum ice with the utmost efficiency. With its sturdy base, you needn't worry about noise as it automatically reduces noise and vibration when working.
Like the rest of the ice crushers on the list, this also has a safety water-resistant On/Off feature for maximum convenience and utmost user safety. Given its aesthetic design, the VIVOHOME Electric Dual Blades Ice Crusher is perfect to be used at home, restaurant, bar, canteen, snack stand, fairs, etc.
PROS —
Sturdy Base
Three-Blades For Maximum Efficiency
High Output
CONS —
Requires Skilled Mechanism To Operate Three Blades
This is one of the best electric ice crusher for home use. It comprises of blades made out of stainless steel, which can be upgraded to double lips. All these features are combined together to give you the fastest shaved ice speed. It has a splashproof design, meaning you needn't worry about the ice splashing around when in use.
The two blades are further extended into a shorter blade for finely shaved ice and a longer blade for rough ice. Unlike other machines, these machines are designed from the back up, which means these machines are highly durable. Meanwhile, it comes with a rubber handle which is antislip to make the machine more safe and comfortable to use.
The blades run at 2000 RPM and are capable of shaving around 209 lbs of ice in an hour. Not just for home usage, but the KOFOHAN Electric Ice Shaver is also the best fit to be used in bars, restaurants, snack bars, lounges, fairs, etc. Here, you can drop all kinds of ice and just push the handle, and the machine will take care of the rest. To top that off, the KOFOHAN Electric Ice Shaver for Home Use has a simple and extremely convenient cleaning method.
PROS —
Easy To Use
Ergonomically Designed
Made Using Anti-Slip Material
CONS —
Expensive
Fraying Reported
Buy the Right Ice Crusher For You: A Comprehensive Guide
If you go to the market, you'll be surprised by the variety of ice crushers there are. But the important thing to understand here is to one should always buy an ice crusher that suits their needs. Although there are different models and versions available, we have laid down some basic parameters on the basis of which you can further narrow down your search for an ice crusher. So, the next time you go hunting for an ice crusher, you can just pair it with the below-mentioned parameters.
Learn The Type Of Ice Crushers
Just like there are different manufacturers out there, there are different types of ice crushers present as well. Hence, the first thing to do here is to learn the type of ice crusher you need for your house.
1. Manual Ice Crusher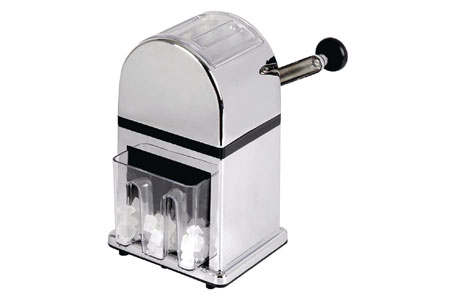 A manual ice crusher is nothing but a simple hand-crank ice machine. These are cheaper than other automatic models and work best with store-bought ice. If you cannot spare too much space in your kitchen, you can opt for a manual ice crusher as they are quite compact.
One of the most important factors out here is that a manual ice crusher packs enough durability to help it withstand an insane amount of cranking. Moreover, these crushers produce just the right amount of ice you need and are easy to clean post usage.
2. Electric Ice Crusher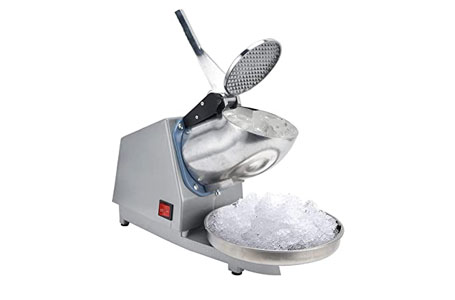 As the name suggests, an electric ice crusher completely eliminates the need for human labor. However, this is the very factor that makes them costlier. These are primarily used for commercial usage since they implement a strong crushing mechanism to quickly and effectively break down the ice.
This saves you time and effort when preparing drinks. From a bar to a kids gymnasium, these electric ice crushers are fit to use anywhere that requires you to provide cool drinks in less time.
3. Commercial Ice Crusher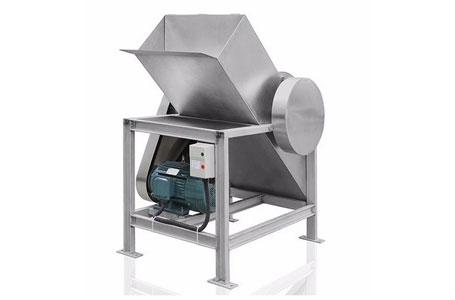 Just like an electric ice crusher, a commerce ice crusher implements a strong and extremely robust mechanism that helps you break down the ice with great ease. These ice crushers are primarily found in bars and other large outlets that require large sums of ice on a daily basis.
A commercial ice crusher automatically adjusts the coarseness of the ice brings produced.
4. Ice Crushers For Home
As the name suggests, these ice crushers are designed explicitly for home-usage. Like a manual ice crusher, these are also compact and can easily fit into a compact space. These ice crushers typically resemble a blender that works on electricity and automatically crushes the ice when started.
Factors to Look for Buying an Electric Ice Crusher for Home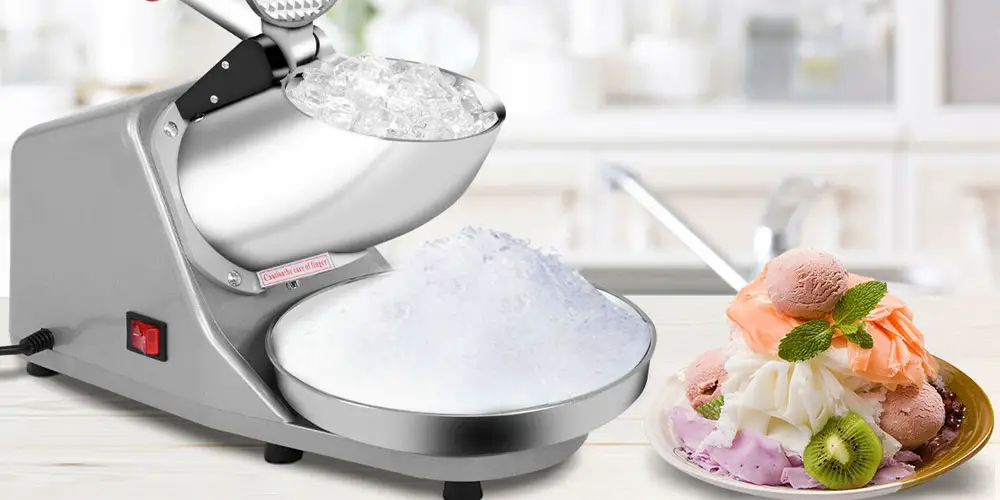 Now that we have walked you through the different types of ice machines, it is time to dig deep and look into the different factors one must consider when buying an ice machine. So, if you are planning to buy an ice crusher, make sure it packs the following factors.
1. Build Quality and Durability
There are perhaps the most important factors to look out for when you set out to buy ice crushers for home use. Since you are only going to be purchasing an ice crusher once, it is vital that you pick a durable machine to withstand the amount of workload. While a manual ice crusher won't cost you much, you will probably lose out on the durability and would be left paying for repairs every now and then.
2. Ease of Use
The primary task of your ice crushing machine is to make sure you are away from manual labor and put on tasty ice on your treat. So, if you opt for a manual ice crusher, it is obvious that you will put in those efforts to crush ice. This can be physically taxing if you need maximum ice in a short time. Therefore, ensure that you choose an ice crusher based on the ease and convenience.
3. Yield Per Hour
Yield is nothing but the results. Your ice machine is only as good as its efficiency to print out ice. So, a good ice crusher should be able to churn out a good quantity of ice in a short duration. Therefore, ensure that you get an ice machine that can deliver maximum performance within the given time frame.
4. Portability
You never know as to where you will need to use an ice crusher. So, it is always better to get an ice crusher that is lightweight and easy in terms of portability. For example, if you are planning an ice crusher for home use, it is always better to get a machine that can be carried from one place to another with great ease and comfort.
5. Cleaning Up and Maintenance
The more maintenance you subject your machine to, the more it is going to last longer. Not cleaning your ice crusher every now and then will only make it prone to mold and slime. This is precisely why you will need to pay utmost attention to your machine's cleanliness. While some machines can be cleaned easily, some involve a rather complicated process. Therefore, when out buying an ice crusher for home use, make sure you take the time out to check if the chosen machine is easier to clean.
Also Read: How To Clean A Portable Ice Maker
6. Cost and Warranty
You will need to get a machine that gives maximum value for money. Just because you get an expensive ice crusher doesn't mean that it'll give you maximum yield per hour. So, always subject your chosen machine to a few comparisons before making the final decision. Note that it is important to buy a machine backed with a warranty.
The Bottom Line
As we mentioned earlier, ice crushers are the best way of getting the most out of your ice cubes. There is a surprising variety of the number of ice crushers that are present in the market.
Hence, we have laid down some of the best ice crushers for cocktails and liquor, which would help you narrow down your search for it. Once you find the perfect ice machine, all you need to do is chill, literally!!!!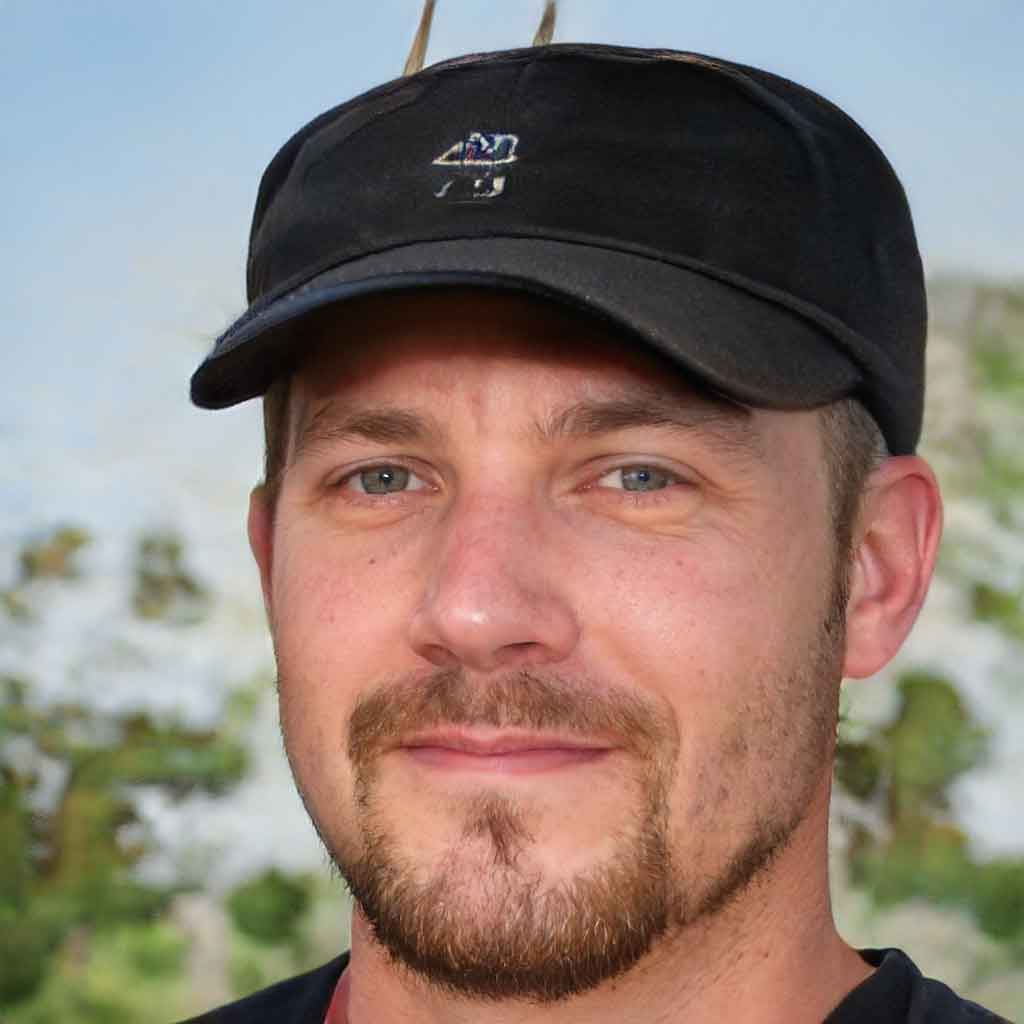 Having worked as a professional bartender for 10 years straight, I've kind of developed this ability to micromanage all factors affecting the strength and feel of my favorite drinks. The type of ice typically has the most to do with it. On PesosKitchenandLounge, I now regularly share my thoughts and knowledge through consistent blogs.