Tramontina Ice Maker Troubleshooting And FAQs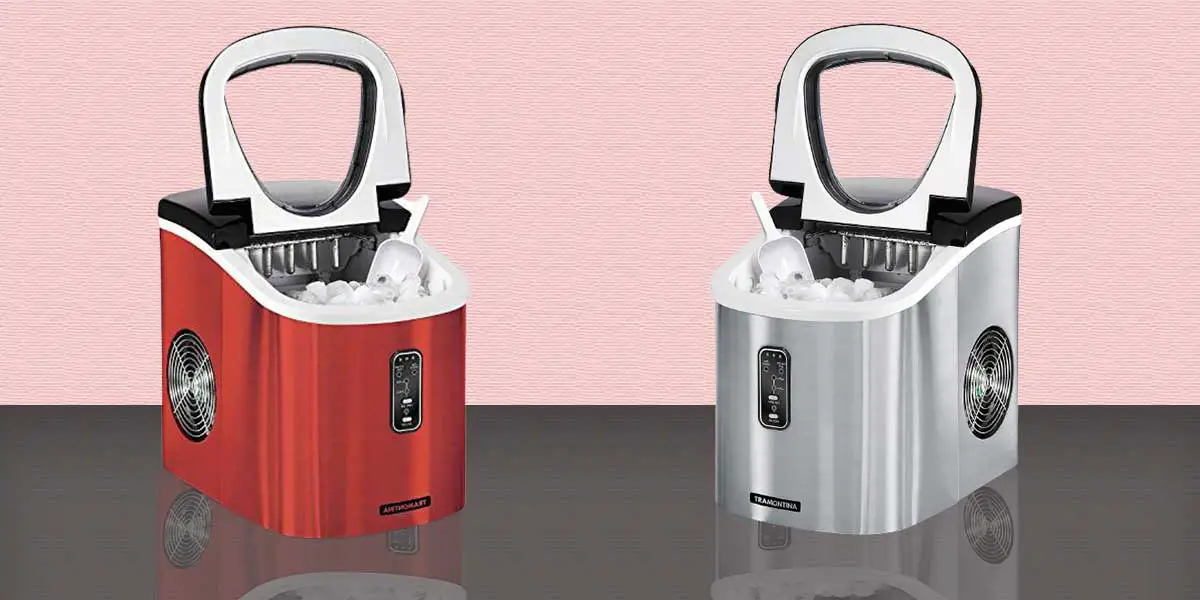 Ice makers are extremely useful and popular but only when they function correctly and efficiently. Tramontina USA, one of the most popular ice maker brands, is present in over 120 countries and combines an innovative spirit with a quality tradition to continue winning and leading markets.
But there is never a good time for your Tramontina ice maker to give up the ghost, and packing up isn't ideal. But don't worry because some of the issues you may be experiencing are easily resolved, and we're here to help you through this article. So keep reading to know more about tramontina ice maker troubleshooting tips.
Our top Ice Maker Picks – Compared
Troubleshooting A Tramontina Ice Maker
We have created a simple cheat sheet to assist you in troubleshooting your Tramontina ice maker.
When the ADD WATER indicator light turns on, it indicates there is insufficient water in the reservoir. Fill the reservoir with water up to the maximum water line to resolve this.
The ICE BIN FULL indicator light illuminates when the ice bin is full. You can fix it by removing any ice cubes blocking or covering the ice capacity sensors.
The Ice Maker/Control Panel does not always work when the Ice Maker does not receive enough power. To resolve this, ensure that the Ice Maker is plugged into a wall outlet rather than a ground-fault circuit interrupter (GFCI) outlet.
Even though the ice bin is full, the Ice Maker will continue to produce ice. The ice bin capacity sensors may fail due to direct sunlight or sunlight reflection. To avoid this, move the appliance to a darker location, away from direct sunlight.
Ice cubes tend to stick together from time to time. While this depends on what type of ice your ice maker makes, (flake, nugget or cube ice), it sure must have happened to you too. It occurs when the ice-making cycle is overly long. You can avoid this by removing the resulting ice cubes and starting from the beginning.
Another reason could be that the water temperature in the reservoir is too low. Simply replace cool water with warmer water.
The ice-making cycle is sometimes normal, but it cannot make ice. It can happen if the ambient temperature or the water temperature in the reservoir is too warm. To fix this, move the Ice Maker to a cooler location, or change the water with cooler water.
Another issue is when the ADD WATER and ICE BIN FULL indicator lights illuminate at the same time. It occurs as a result of an electrical power surge. If this happens, turn off the Ice Maker and reconnect the power plug once again.
Tramontina Ice Maker FAQs
1. How To Use Tramontina Ice Maker
The Tramontina Ice Maker operates on a polarised plug and requires a standard 110-120 volt, 60Hz electrical outlet with three prongs. The power plug should then be plugged into a suitable outlet.
Then, open the top, remove the ice bin, and pour water into the water reservoir up to the maximum waterline. To start the Ice Maker, press the ON/OFF button. The green indicator light remains on. Select the SMALL or LARGE ice cube size by pressing the CUBE SIZE button.
If you use the Ice Maker daily, change the water in the reservoir every 24 hours to ensure fresh water is available for ice production.
2. How To Clean The Tramontina Ice Maker
Cleaning the Tramontina Ice Maker is an effortless task. Keep reading to know more about how to clean tramontina ice maker. Ensure the Tramontina ice maker is clean and thoroughly dry when not in use or ready to store ice. Move the front edge of the Ice Maker over a sink and open the water drain plug to drain any remaining water from the water reservoir. Then, remove the ice bin and scoop, and use a soft cloth to dry the water reservoir thoroughly.
Hand-wash the ice bin, scoop in warm soapy water, and wipe down the exterior surface with a soft, damp cloth to dry it thoroughly.
Finally, before storing, leave the cover open to allow the interior to dry completely.
3. Why Is The Tramontina Ice Maker Not Working?
A. Check Water Levels
Check that the ice maker has a steady supply of water. Examine the water reservoir and replenish it as needed.
A portable ice machine will occasionally shut down if it is either too full or too empty. So make sure to only refill the machine to the water line indicated on the tank. After you've filled the ice maker, try turning it on again to see if it starts making ice. If the water sensor indicates an empty tank even after filling it, locate the sensor and clean it to ensure that no debris is causing a false reading.
B. Check If The Ice Maker Is Properly Plugged
If your ice maker has a water hose (direct water), make sure that it is not pinched, cut, or frozen. Ascertain that the water reaches its destination.
To access the water hose and ensure it is not cut or blocked. If you notice leakage from your machine, this is a sign that your water supply is clogged.
Also, make sure the water reservoir plugin is not loose or missing. It's possible that one of your family members accidentally turned off your ice maker, causing it to stop producing ice entirely.
C. Damaged Water Pump
If the water pump in your portable ice maker is damaged, water will not flow. When there is a minor problem, such as a clogged line, the water pump must work harder to get the water where it needs to go. As a result, the water pump eventually burns out, leaving you with an even terrible mess on your hands.
If a defective water pump causes the issue, I recommend replacing the unit with a newer model.
D. Check The Water Intake Valve
Examine the valve on the tap. A defective tap valve—the small device that connects the ice maker's water supply tube to the water pipe—could be the source of the problem.
Replace the inlet valve and the tap valve as needed. You can do this yourself if you purchase an ice maker connection kit.  Or you can hire a repairer or plumber to install an inline water filter when replacing the valve.
4. Why Is The Tramontina Ice Maker Making A Loud Noise?
The majority of portable ice makers make a lot of noise. And your Tramontina Ice Maker is also out of the question. As the ice maker progresses through the ice cycle, you will hear the pump drawing in water and the compressor.
If your portable ice maker is making more noise than usual, give this a shot. Check to see if your unit is level. An unlevel machine may produce more noise than is necessary.
If you hear a loud knocking or metallic pinging, the compressor within your ice maker could be the reason. If your portable ice maker is still under warranty, you must contact customer service or return it for a replacement.
4. Why Does The Ice From My Tramontina Ice Maker Smell Bad?
If you have a problem with smelly ice, your tramontina ice maker likely needs to be cleaned. Frequent cleaning is also essential if your ice maker was marketed as a clear ice maker. Keeping your ice clear is a direct implication of a clean interior of your ice maker. When the machine is dirty, your ice will also be contaminated, and it will taste less than stellar.
Mold inside your unit can cause various health issues, so you must ensure that it is properly addressed.
It is a good idea to clean your ice maker at least once every three weeks to ensure that dirt and debris are removed and that mold does not form.
When dirt accumulates on the inside walls of your ice maker, it enters the water and, eventually, the ice.
Read My Other Troubleshooting Guides here:
Conclusion
Although ice makers are not particularly delicate, they should be regularly maintained to ensure optimal performance. Portable ice makers wear out over time, and in extreme cases, it may be time to replace them. But if your ice maker has a minor flaw, you might as well fix it yourself.
Listed above are some of the most common tramontina ice maker troubleshooting methods. I hope this article was helpful and that you were able to repair your Tramontina ice maker successfully.